Lawrence/Wayne County Cattlemen's Association Annual Meeting
The Lawrence/Wayne County Cattlemen's Association Annual Meeting has been scheduled for Saturday, January 27th 5:30pm at the Lawrence County High School Cafeteria. Members and guest will be treated this year to a fun and entertaining program featuring Cowboy Dan's Frontier. Cowboy Dan has been described as "Roy Rogers meets Mr. Rogers" as he sings, laughs and entertains. Another special guest speaker will Tennessee Assistant Commissioner of Agriculture, Mr. Keith Harrison.
The business part of the meeting will consist of the announcement of the 2018 scholarship winner(s) and the presentation of the 2017 scholarships. The highlight of the evening will be the announcement of the 2018 Cattlemen of the Year. Reservations need to be made before Monday January 22rd, by calling either the Lawrence County Extension Office at 762-5506 or the Wayne County Extension Office at 722-3229. You can also email me at ibryant1@utk.edu. It is extremely important to call in your reservation to insure we have enough food for everyone in attendance.
---
Advanced Master Beef Producer Class Scheduled
UT Extension in Giles, Lawrence and Maury Counties are teaming up once again to offer an Advanced Master Beef Producer Class. The class will meet from 8am.–2:30pm on three consecutive Wednesdays starting on Jan. 17th and concluding on Wednesday, January 31st. The cost of the class is $100 with a current BQA number. The class location will rotate from Columbia to Pulaski to Lawrenceburg in that order. Advanced Master Beef Certifications are good for 3 years according to requirements for the master level of the TAEP by the Tennessee Department of Agriculture. There are approximately 100 Lawrence County Beef Producers whose Advanced Master Beef Certifications will be expiring sometime in 2018. The Advanced Master Beef Producer Class will also be available to producers who have never completed either the first Advanced Master Beef Producer Class or the Original Master Beef Producer Class. Added resources will be given to first time participants. To register or for more questions contact the Lawrence County Extension Office at 762-5506.
Fall 2017 Lawrence County Advanced Master Beef Producer Graduates
Photo 1---Advanced Master Beef Producer Oct. Class 1 2017 Lawrence County Graduates.
Pictured left to right: Michael Miller, Gary David Smith, Tim Springer, Hank Brewer, Michael Marks,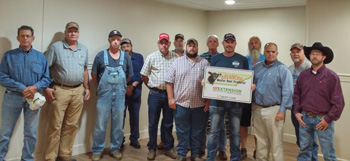 Johnny Whiten, Jamey Crews, Larry Brown, Hoyt Tidwell, Don Baldwin, Barry Doss, Troy Kelsey Jr., and Phillip Gibbons. Not pictured Lowell Stafford and Tammy Stafford.
Photo 2--- Advanced Master Beef Producer Oct. Class 2 2017 Lawrence County Graduates.
Pictured left to right: Talmadge Roper, Ronnie Moore, Charles Robertson, Sabetha Pigg, Grace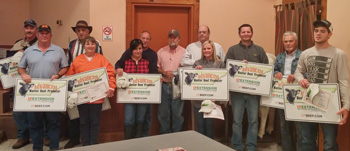 Kelly, Patrick Kelly, Roy Hagan, Gary Fox, Candace Bedford, Les Grooms, Steve Sutherland, and Milton Williams.
Lady Beetle Invading Homes
Calvin Bryant / Lawrence County Extension Director
With the arrival of the cooler temperatures that come with the changing of the seasons some insects start looking for warmer places to spend the winter. One of the most common insect invaders is the Multicolored Asian lady beetle. These beetles are orange-red with a variable number of spots and sometimes they are referred to as "Halloween Beetles". These beetles may congregate on the sunny sides of buildings by the thousands and, if given the opportunity, will often move inside in search of an overwintering site. In Japan, they seek protected sites such as cracks and crevices in rocks on mountains. In the U.S., they use buildings as overwintering sites. This can be a particular problem in log homes because of their many cracks and crevices.
These Multicolored Asian lady beetles were first introduced into the United States to control aphids and because of this they are generally considered to be a beneficial insect. These beetles do not sting, do not carry diseases and do not consume or excavate wood. However these same friendly bugs, when inside a home can stain wallpaper and upholstery yellow when crushed. When the multicolored Asian lady beetle is present in large numbers, some individuals with insect allergies have been irritated.
What attracts these insects to your home? The beetles seem to be attracted to light-colored walls, but this is not always the case. Dark-colored buildings are still invaded. Large windows or other reflective surfaces may also attract them.
What can be done to prevent this beetle from entering your home? Exclude them! Don't give them the chance to enter! Exclusion practices should be performed each year with the arrival of autumn. The first step to prevent entry into a home is to seal cracks and crevices where insects may enter the structure. Once the beetles have found a crack and crevice to over-winter, they may remain inactive on cool days. On warm days when the sun is shining, activity is often seen on the western or southern side of the house. Take notice of the direction from which the beetles are coming and try to locate their resting spot. Locate this resting spot on a cool day, when the beetles will be clustered and can easily be removed with a vacuum. Unfortunately, these resting spots may be in wall voids or other inaccessible spaces.
For more information about what can be done to prevent this beetle from entering your home, contact UT Extension Lawrence County by calling (931) 762-5506.
Horse Owners Urged to Take Precautions - WNV and EIA Detected in TN
The state veterinarian has announced three new cases of horses sickened by viruses that infect the blood.
A horse in Davidson County and a horse in Knox County recently tested positive for West Nile Virus (WNV). A horse in Bedford County tested positive for equine infectious anemia (EIA). Sick horses cannot directly infect people with WNV or EIA.
"We think about the summer as being bad for biting insects, but the risk carries well into the fall," State Veterinarian Dr. Charles Hatcher said. "Horse owners need to be vigilant, take preventive measures, and practice good animal husbandry to protect their livestock year-round."
For WNV, mosquitoes and other biting insects are responsible for transmission. Symptoms in horses may include fever, weakness, loss of appetite, or convulsions. The illness is treatable and the WNV vaccine for equines is particularly effective.

EIA is commonly transmitted through biting insects or sharing needles. Symptoms in horses may include fever, weakness, swelling, loss of appetite, or colic. However, an infected horse may not show any clinical signs. There is no treatment or vaccine. Once infected, a horse must be permanently quarantined or euthanized. State law requires an annual Coggins test to check for the presence of EIA before any horse is transported from its home farm to a different location.
Dr. Hatcher advises horse owners to consult with their veterinarians to establish a schedule for vaccines and Coggins tests.

Other tips include:
Avoid co-mingling your horses with other, unfamiliar horses.
Never share needles, dental, or surgical equipment among different animals.
Eliminate standing water sources where insects may gather and breed.
Manage manure and disposal.
Apply fly sprays and insect repellants as needed.
The C. E. Kord Animal Health Diagnostic Laboratory now offers a full line of equine disease testing, including WNV, EIA, equine herpes virus (EHV), equine protozoal myeloencephalitis (EPM), eastern equine encephalitis (EEE), and equine influenza virus (EIV). Contact your veterinarian for more information.
Advanced Master Beef Producer Classes Scheduled for October
The will be 2 opportunities for producers to complete the Advanced Master Beef Producer Class this fall.
The first option will be held as a part of the Giles County's "Here's The Beef Festival" on Oct 5-7. The schedule for this class will be:
Thursday, Oct. 5th 5:30--9 pm Classroom format with 2 speakers at the Giles County Agri-Park
Friday, Oct. 6th 8am—5pm Field Day at the Giles County Agri-Park with speakers/ vendors/ hands-on demonstrations
Saturday Oct. 7th morning only Speaker prior to the TN Valley Elite Heifer Sale
The second option will be held on 4 consecutive Thursday nights in October beginning on Oct. 5th and ending on October 26th. These classes will begin at 5:30 and conclude around 9pm. The schedule for this class option is below:
Thursday, Oct. 5th 5:30—9pm Giles County Agri-Park **** (Same class as the first class for option 1
Thursday, Oct. 12th 5:30---9pm Lawrence County Extension Office
Thursday, Oct. 19th 5:30---9pm Lawrenceburg location TBA
Thursday, Oct. 26th 6—9pm MTREC in Spring Hill
The first 3 Thursday nights there will be 2 speakers covering 2 topics and the last Thursday night will be 1 speaker and 1 topic with graduation to follow.
A more specific list of topics and speakers will be announced later. The cost for the Advanced Master Beef Producer Class is $100 (with a current BQA Certification) or $200 (without a current BQA Certification)
Advanced Small Ruminant Producer Class
An Advanced Small Ruminant Producer Class has been scheduled for Oct. 25-27th at the Middle Tennessee Research and Education Center in Spring Hill. The class will begin each day at 9am and conclude around 4pm. Specific speakers and topics are currently being scheduled. The cost of the class will be $100. For more information contact the Lawrence County Extension Office.
Certified Private Applicator Recertification Trainings Scheduled
All Private Applicator Certification Cards will be expiring on October 21st 2017. To become recertified, producers must attend a Certified Private Applicator Training before October 21st of this year. A schedule of these trainings is listed on the back page. These training will be the last opportunity private applicators will have to get recertified before the October deadline! The recertification training will last approximately 1.5 hour and consist of a pre & post-test along with watching a pesticide safety training module that will last for 1 hour. The cost to become recertified will be $25. This certification period will be good until June 30th 2020. A Certified Private Applicator is someone who can legally purchase and apply "Restricted Use Chemicals" for use on their own farm.
Tennessee Department of Agriculture Issues New Measures for Dicamba

In accordance with new rules filed with the Secretary of State:
Anyone applying dicamba products must be certified as a private applicator or licensed as a pest control operator in the category of Agricultural Pest Control (AGE), and is required to keep records for such applications.
The use of older formulations of dicamba products for the remainder of this agricultural growing season is prohibited.
To minimize the potential for off-target movement of the product due to temperature inversion, dicamba may only be applied from 9 a.m. to 4 p.m. in the respective time zone for the location of application.
Applying dicamba over the top of cotton after first bloom is prohibited.
"I can't keep dicamba in the field"
Author: Larry Steckel, UT Extension Weed Specialist
"I can't keep dicamba in the field" has been a frequent comment I have heard from many frustrated folks who have followed the rules and tried their best not to drift on their neighbors. Quite a few good and conscientious farmers have thrown up their hands and gone back to Flexstar to try to control pigweed in soybean. Others have reported that they often have been successful not drifting onto non-target areas. However, judging by all the off-target dicamba injury that seems to be more the exception than the rule.
So what are the reasons for all the drift? After visiting hundreds of dicamba-drifted RR, LL and conventional soybean fields that easily have totaled over 30,000 acres, I can say with certainty that many of the reasons I have heard recently from upper management in Monsanto are NOT the cause of all these dicamba injured broadleaf plants across west Tennessee.
I cannot imagine the hundreds of thousands of acres of non dicamba tolerant (DT) soybeans in Tennessee that have shown dicamba injury could be due to contamination of Liberty jugs with dicamba, calcium deficiency, Dual Magnum burn, and/or surfactant burn. Nor do any of those reasons explain the dicamba injury I have seen in a vineyard, gardens, trees in parks and back yards…….even my backyard.
We do not need speculative reasons to explain all the drift issues as there are plenty of real reasons. Firstly, though it looks straight forward on paper, it is extremely hard to follow the label. The best example of this is that you cannot spray when the wind is above 10 mph or below 3 mph. Just that stipulation when you have crops to spray timely in three different counties makes the logistics a nightmare.
Another reason, which I believe could be the main reason, is dicamba's inherent volatile nature. Dicamba is unique compared to most pesticides in that it is prone to "picking back up" as a gas and departing a field hours after application when temperatures are warm. This is particularly true for the older Banvel and Clarity formulations. There is some evidence that older formulations have been used in Xtend crops which would certainly contribute to the off-target movement. Exactly how much of this is going on is difficult to figure. However, it is hard to believe that old dicamba formulations can possibly explain all of the hundreds of thousands of acres of dicamba injured soybean in this state.
Could Engenia or Xtendimax be volatilizing as well? My colleague, Dr. Tom Mueller, was asked by members of the Tennessee Soybean Promotion Board to test if there was a difference with Engenia volatility if it was tankmixed with Roundup PowerMax. In the attached figures below showing Dr. Mueller's research data, please note the data is presented in time intervals following the herbicide application to an acre of soybean. It is presented from 0–6, 6-12, 12-24 and 24 -36 hours after application. Dr. Mueller has said that some of the detection from the first 6 hours could in part be small spray droplets still in the air caught in an inversion which dissipated as the morning warmed up. However, after that 0-6 hour time frame any detection the next 24 hours would be exclusively from volatility.
In short, his data shows that Engenia does volatilize and could depart from the field, albeit at extremely small amounts, many hours after application. It also suggests that Roundup PM does not affect the volatility profile of Engenia to any great extent. The level of volatility for Engenia alone or the Engenia in the tankmix was extremely low but was not zero. I have seen data as well that would suggest that Xtendimax shows similar level of volatility over that same time frame.
Are numbers that low biologically significant? Probably not in small plots like this or possibly in a 20 acre field. I am not as sure when a good number of farmers spray thousands of acres in a single county in a few days. Could even those small amounts build up when sprayed over that many acres and help cause all the drift we are seeing? I don't know but it is a good question and I am not confident BASF (manufacturer of Engenia) nor Monsanto (manufacturer of Xtendimax) really know.
Finally, inversions are another common reason we may be seeing so much dicamba trespassing across the country side. Inversions occur most days in Tennessee during June and July. Just that fact makes it very hard to not accidently spray into an inversion. Of course, if you spray into an inversion tiny drops can get caught in the cooler air and hang up for some time. Moreover, if dicamba is volatilizing out of a field it likely can get caught in the inversion as well.
There are many moving parts to this issue and I'm not confident we will ever get to the bottom of it. My best guess is that at some time or another all the reasons mentioned above are a cause.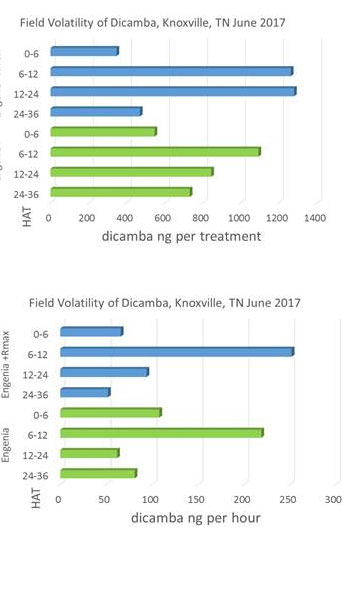 ---
The Tennessee Department of Agriculture is taking measures to mitigate the risk of drift of herbicides containing dicamba

In accordance with new rules filed with the Secretary of State:
Anyone applying dicamba products must be certified as a private applicator or licensed as a pest control operator in the category of Agricultural Pest Control (AGE), and is required to keep records for such applications.
The use of older formulations of dicamba products for the remainder of this agricultural growing season is prohibited.
To minimize the potential for off-target movement of the product due to temperature inversion, dicamba may only be applied from 9 a.m. to 4 p.m. in the respective time zone for the location of application.
Applying dicamba over the top of cotton after first bloom is prohibited.
This action is in response to primarily farmer to farmer complaints currently under investigation by TDA of suspected dicamba related damage on cropland. These measures are based on the recommendations of UT Extension and only apply to dicamba products purchased and used for agricultural purposes. The rules are effective immediately through Oct. 1.
"Our approach will offer protection to those who stand to be negatively impacted by off-target movement of dicamba while also allowing those farmers who have invested in products designed for their crops to continue to use the appropriate herbicides responsibly," Agriculture Commissioner Jai Templeton said.
Dicamba is a broad-spectrum herbicide. Products containing dicamba have been used for household and commercial weed control for decades.
TDA is working to ensure an appropriate and scientifically-grounded response to an increase in complaints of possible dicamba drift. The department has focused staffing and resources to respond to those complaints quickly and efficiently. Furthermore, the department is engaged in daily discussions with producers, the University of Tennessee, manufacturers, other state and federal agencies and ag industry representatives to address this issue.
"Agriculture today is dependent more than ever on new and evolving technologies to help us feed and clothe the world. I'm confident that we can address this issue as we have in other cases to ensure the safe and effective use of these tools," Templeton said. "We will be forming an advisory group representative of stakeholders to help us determine the best path forward going into the next year."
State and federal laws mandate applicators strictly follow label directions and consider the weather and potential for temperature inversions when applying any herbicide. Any suspected misapplication should be reported immediately to TDA at 800-628-2631 or 615-837-5148. The department will take appropriate enforcement action for any misapplication, including but not limited to suspension or revocation of a certificate and state penalties up to $1,500 per violation, in addition to federal penalties and possible criminal prosecution.
To assist producers and others who have questions, TDA has developed a dicamba resources webpage with links to educational information, a complete listing of approved dicamba products and the new rules.
---
Charles Orton, of the Deerfield Community, was presented with the Century Farm award at the 2017 Salute to Agriculture Breakfast. Mr. Orton's farm has been in operation since 1900.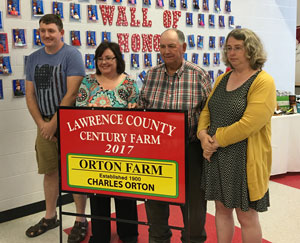 Pictured are: Nathan Orton (son), Nancy Garland (daughter), Charles Orton, and Elaine Orton (daughter).
---
Farm Gauge
The University of Tennessee Institute of Agriculture (UTIA) has received a grant from the U.S. Department of Agriculture to expand the farm financial management database FINBIN to include Tennessee farms, making Tennessee the only Southeastern state currently contributing data. FINBIN is a well-established, publicly available, secure farm financial database that provides benchmark financial information for producers, Extension educators, lenders, and other agricultural professionals.
Because Tennessee is agriculturally diverse, the state will be contributing data on enterprises not previously represented, such as cotton, tobacco, a variety of vegetables, hay, meat goat production and more.
The project will include both Extension and research faculty and staff in the Department of Agricultural and Resource Economics. "The goal of this project is to make Tennessee farmers more money," states Chris Boyer, project director. "Benchmarking financial information such as net farm income and cost of production can improve the profitability, competitiveness, risk management, and overall financial health of farms in Tennessee."
Along with producers, stakeholders such as Farm Credit Mid-America can use benchmarking to guide their lending decisions and educate agricultural lenders. "This project will provide much-needed resources to aid our farmers and customers in making better-informed financial decisions for their farming operations," said Mark Wilson, senior vice president financial services at Farm Credit Mid-America. "Having the ability to compare their operation's financial data to benchmarked data from both inside and outside Tennessee will prove invaluable, especially during this time of tightening profit margins."
Furthermore, one of the recommendations in the Governor's Rural Challenge is to enhance farm net income and cash receipts for the state by improving marketing and production of agricultural products in the state. Thus, the development of benchmarking for farms in Tennessee will be of great interest to state policy makers and could play a key role in gauging the progress of the 10-year strategic plan.
The success of this project relies a great deal on Tennessee farmer participation and UT Extension but has the potential to have a large impact on the Tennessee producers' bottom line. "Throughout my career I have witnessed how effective benchmark analysis can be in improving farm business management decisions and producers' profitability," said Delton Gerloff, interim dean of Extension. "This project is a great opportunity to support farm financial management in the state of Tennessee."
Farmers wanting to know more about this project and how they can participate, please contact Chris Boyer at 1-800-345-0561 or cboyer3@utk.edu or contact UT Extension Farm Manage Specialist, Les Humpal at 931-375-5301.