AUCTIONS
APPLIANCE REPAIR
Kelly Appliance & Vacuum 931-244-7200
AIR CONDITIONING
D.E. Hill & Son 762-9584
ASSISTED LIVING
AUTO REPAIR


J & G Tire Center 931-762-0078
BANKS
CONSIGNMENT
On Second Thought Consignment 931-244-7244
CINEMAS
CLINICS
Clothing
On Second Thought Consignment 931-244-7244
COMPUTER REPAIR
DAY SPA
Envy Tanning & Spa 931-762-3689

ELECTRICAL & PLUMBING
Rick's Electrical & Plumbing 931-242-5325
ELECTRONICS
Lynn Electronics 762-0401
EXCAVATING / GRADING
Newton Backhoe Service 931-242-0305
FLORIST

Lawrenceburg Florist 762-3722
McKelvey's Flowers 762-4511

FUNERAL HOMES

Pettus-Turnbo Funeral Home 762-3291
FURNITURE
Green's Furniture
Swap & Shop Center
GIFTS
GLASS REPAIR
Lawrenceburg Glass 766-1004
HARDWARE
HEALTH PRODUCTS
Salt Glow 931-279-4780
HOBBY
INSURANCE
Aarons Insurance 931-629-8065
Baker Agency 762-4550
Wall-Modrall Insurance 762-6528
JEWELRY
Dixon's Fine Jewelry 762-9979
LAWN CARE


Dustin's Lawn Care 242-4414
MEDICAL
NATURAL FOODSNature's Nuggests 762-2895
OUTDOOR
Randy's Cycle & ATV 762-2450
PARTY / SUPPLIES
PAWN
Mo's Pawn Shop 762-2529
PHARMACY
POOLS/ SUPPLIES
By Pass Pools 931-762-7904

REAL ESTATE
RENTAL
RESTAURANTS
SPORTING GOODS
Fox Sporting Goods 931-766-0313


TANNING
Envy Tanning & Spa
931-762-3689
TIRES
Groucho's Tires 931-762-1707
TRAVEL

Charles Orton, of the Deerfield Community, was presented with the Century Farm award at the 2017 Salute to Agriculture Breakfast. Mr. Orton's farm has been in operation since 1900.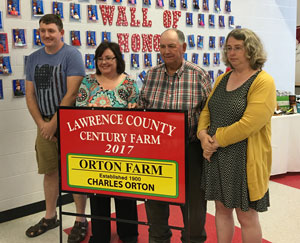 Pictured are: Nathan Orton (son), Nancy Garland (daughter), Charles Orton, and Elaine Orton (daughter).
---
Salute to Agriculture Week
Salute to Agriculture Week will take place from June 4th-June 10th. The 2017 theme is "Young Farmers Rooted In Agriculture". The Farmer Appreciation Breakfast is scheduled for Wednesday, June 7th at David Crocket School beginning at 7:30 am. The American Farm Bureau Federation President, Zippy Duvall and the Tennessee Farm Bureau President, Jeff Aiken will be the guest speakers at the breakfast and we will announce the 2017 Century Farm Winner. To register for the breakfast, call the Lawrence County Chamber of Commerce at 762-4911. Following the breakfast will be our annual farm tours. Attached is the week's schedule as well as the schedule of the farm tours.
Fruits of the Backyard Field Day
The annual "Fruits of the Backyard" Field Day is scheduled for Tuesday, June 13th beginning at 8:30 am. at the Middle Tennessee Research and Education Center in Spring Hill, TN. This year there will be three presentations given by University personnel that will place special focus on backyard honey production, tomato production and small fruits. A trade show with educational exhibits will offer on-site insect identification and plant diagnostics. Visitors are welcome to bring in samples for identification. The field day will conclude at noon. Attached you will find a flyer on the conference.
Grass Fed Beef Conference
UT Extension will be hosting a Grass-Fed Beef Conference at the Middle Tennessee Research and Education Center in Spring Hill on June 28th. This conference will offer producers a "one stop" opportunity to learn about producing and marketing grass-fed beef. Some of the educational topics will include; Nutrition, Finishing on Grass, Forage Systems, Branding and Labeling and Producer Experiences. In addition to the general conference sessions, there will be an opportunity for a pre-conference tour of UT's Middle Tennessee Research and Education Center (MTREC) offered on June 27th from 4 p. m. to 6:30 p. m. The pre tour will take participants on a tour of the research that is being conducted on the station with forage and livestock. To register or for more information contact the Lawrence County Extension Office at 762-5506 or email --- ibryant1@utk.edu. Attached you will find a flyer on the conference.
Southern Middle Tennessee Marketing Club Summer Meeting
The Summer Marketing Club Meeting is scheduled for Wednesday, June 14th beginning at 7 am. at the Lawrence County Extension Office Community Meeting Room. UT Extension Crop Marketing Specialist, Dr. Aaron Smith and UT Extension Livestock Marketing Specialist, Dr. Andrew Griffith will be on hand to discuss their thoughts on where the commodity markets are and are headed as well as discuss marketing strategies that producers should consider.
---
"Century Farm" Nominations Sought As Part of Salute to Agriculture Week
The Chamber of Commerce and the UT/TSU Extension Office, in cooperation with several local agriculture businesses and agencies, will be once again sponsoring a "Salute to Agriculture Week". The 2017 date has been set for June 4---June 10.
As part of this special week honoring the positive impact of farming on Lawrence County's economy and quality of life, a "Century Farm" will be selected and recognized.
To qualify for consideration, farms must still be in the family and have been in continuous operation for at least 100 years. In addition to the nomination form the applicant will need to provide a brief historical account of the farm and mail this summary in along with the form. Previous nominations are kept on file for future consideration.
Here is a link to a short form for nomination of a "Century Farm".
---
Farm Gauge
The University of Tennessee Institute of Agriculture (UTIA) has received a grant from the U.S. Department of Agriculture to expand the farm financial management database FINBIN to include Tennessee farms, making Tennessee the only Southeastern state currently contributing data. FINBIN is a well-established, publicly available, secure farm financial database that provides benchmark financial information for producers, Extension educators, lenders, and other agricultural professionals.
Because Tennessee is agriculturally diverse, the state will be contributing data on enterprises not previously represented, such as cotton, tobacco, a variety of vegetables, hay, meat goat production and more.
The project will include both Extension and research faculty and staff in the Department of Agricultural and Resource Economics. "The goal of this project is to make Tennessee farmers more money," states Chris Boyer, project director. "Benchmarking financial information such as net farm income and cost of production can improve the profitability, competitiveness, risk management, and overall financial health of farms in Tennessee."
Along with producers, stakeholders such as Farm Credit Mid-America can use benchmarking to guide their lending decisions and educate agricultural lenders. "This project will provide much-needed resources to aid our farmers and customers in making better-informed financial decisions for their farming operations," said Mark Wilson, senior vice president financial services at Farm Credit Mid-America. "Having the ability to compare their operation's financial data to benchmarked data from both inside and outside Tennessee will prove invaluable, especially during this time of tightening profit margins."
Furthermore, one of the recommendations in the Governor's Rural Challenge is to enhance farm net income and cash receipts for the state by improving marketing and production of agricultural products in the state. Thus, the development of benchmarking for farms in Tennessee will be of great interest to state policy makers and could play a key role in gauging the progress of the 10-year strategic plan.
The success of this project relies a great deal on Tennessee farmer participation and UT Extension but has the potential to have a large impact on the Tennessee producers' bottom line. "Throughout my career I have witnessed how effective benchmark analysis can be in improving farm business management decisions and producers' profitability," said Delton Gerloff, interim dean of Extension. "This project is a great opportunity to support farm financial management in the state of Tennessee."
Farmers wanting to know more about this project and how they can participate, please contact Chris Boyer at 1-800-345-0561 or cboyer3@utk.edu or contact UT Extension Farm Manage Specialist, Les Humpal at 931-375-5301.