A Loretto, Tennessee Police Officer, and a baby was exposed to Fentanyl during an overdose call at the Dollar Tree.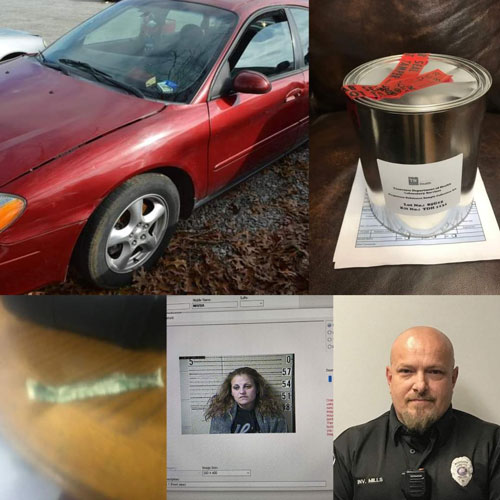 According to reports the incident took place on December 15th when Loretto Police Investigator, Gary Mills, responded around 10:00a.m. to an overdose call in the parking lot of the Dollar Tree.
Upon arrival Mills approached the vehicle described as a red car where the driver, Elizabeth Smith, was slumped over the center console, and the Investigator could hear the 2 month old baby crying in the back.
Mills reported that with the help of people from the store, they were able to open the door to safely remove the baby from the vehicle as the Investigator turned the car off, and began attempting to revive the 34 year old woman who was under the influence of narcotics.
As Mills began searching the vehicle he discovered a dollar bill with a powdery substance inside it where Smith told the Investigator that she had crushed up Percocet pills.
Later that day, Mills was back at the Police station logging the drugs into evidence when he accidentally spills some of the powder on his bare skin where he immediately tests the powder for fentanyl and it comes back positive.
According to Mills he started experiencing symptoms, and with the nearest ambulance in Lawrenceburg, some 15 miles away, Mills drove himself to the hospital, and was given two doses of Narcan which almost immediately stabilized his condition.
Because of the fentanyl contamination, Mills' police car, and the police and adjoining fire departments must also be decontaminated where Mills stated that he is going to request that Elizabeth Smith be charged with reckless endangerment for exposing him and the baby to dangerous fentanyl.
Thankfully reports indicate that the baby did not suffer any ill affects from the exposure.
Photo Credit: NEWS 2, Loretto Police Department.