Middle Tennessee to face frigid temperatures, potential snow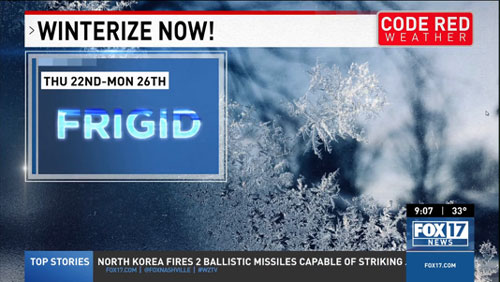 All eyes are on a system that will impact Middle Tennessee (and much of the country) later this week. Locally, the forecast shows bitter cold air by Friday morning that will last through Christmas day and early next week. Along with the front, rain and snow will move through the area, creating difficult driving conditions for Friday and Saturday.
Rain showers will spread across Middle Tennessee beginning Thursday morning and last through much of the day. Cold air will begin to pour in Thursday night and as it does, rain will quickly change over to light snow showers. Some light accumulation will be possible and temperatures plummet to single digits by Friday morning. While it's still up in the air on exactly how much snow there will be, travel will become difficult with icy conditions developing through the overnight into early Friday. Heavy snow looks to stay north of Tennessee, but light snow accumulation remains possible.
With being a couple days out, stay tuned for updates and changes to the forecast.
In addition to the snow chances, bitter cold air will sweep across the area. Highs on Friday will struggle to reach 20 degrees, and breezy conditions will put wind chills below zero for Friday and Saturday mornings. The cold air will hang around through the holiday weekend, into early next week.