A Maury County Fentanyl Distribution ring busted by federal and local agencies including the Lawrence County Sheriff's Department.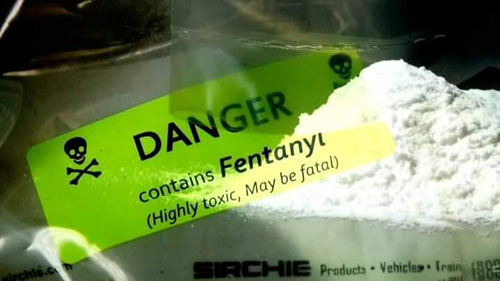 District Attorney of the 22nd Judicial District, Brent Cooper, released the following information and photo on Thursday:
"FOR IMMEDIATE RELEASE:
MAURY FENTANYL DISTRIBUTION RING BUSTED BY FEDERAL AND LOCAL AGENCIES
A year and a half long drug investigation, beginning in July, 2020, was conducted by the DEA Nashville District Office (DO) Tactical Diversion Squad (TDS), working jointly with the Tennessee Bureau of Investigations (TBI) Drug Investigation Division (DID), Columbia Police Department (CPD) Vice and Intelligence Unit, and the 22nd Judicial District Drug Task Force.
The investigation targeted a counterfeit Oxycodone Pills Drug Trafficking Organization (DTO) responsible for distribution and sale of what was later determined to be fentanyl-laced pills. During the investigation, investigators conducted multiple undercover buys of fentanyl-laced pills from members of this DTO. During the course of the investigation, Agents developed information which identified the sources of the pills recovered during the sales leading to the execution of six residential search warrants. During these warrants, Agents seized a large quantity of fentanyl-laced pills, 7 guns (including two shotguns, an AR-15 rifle, multiple extended magazines, and a large amount of ammunition), and over $30,000 of US Currency.
On December 13, 2021, 11 individuals were indicted for various crimes including Conspiracy to Distribute Fentanyl, Distribution of Fentanyl, and Possession of a Firearm during the Commission of a Felony, and Felony Tampering with Evidence by a grand jury seated in the Tennessee 22nd Judicial District located in Maury County, Tennessee.
On December 14, 2021, the DEA Nashville Tactical Diversion Squad, TBI, CPD, and 22nd JDDTF, assisted by members of the Williamson County Sheriff's Department, Maury County Sheriff's Department, Lawrence County Sheriff's Department, Tennessee Highway Patrol, Hickman County Sheriff's Office, and Spring Hill Police Department located and arrested 7 of the 11 subjects. Additional arrests resulting from this investigation are expected.
Fentanyl cases are surging nationwide, along with overdose deaths associated with the drug. In fact, one individual scheduled to be indicted in this case died of a suspected fentanyl overdose last week."