Columbia Police Department are requesting the public's help in identifying suspect who stole a vehicle, and used victim's credit card.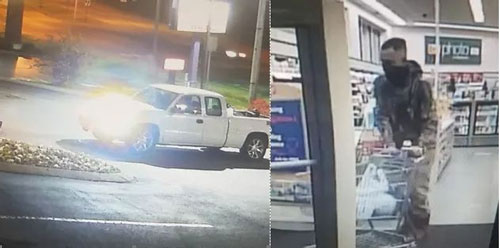 The Columbia Police Department released the following surveillance photos along with details regarding a vehicle burglary, and stolen credit card:

"Vehicle Burglary/Fraudulent Use of Credit Card 12/16/2020 9:45am
Please feel free to share this post but, please, do not leave names or specific information in the thread. You may send information to our messaging or contact us with one of the numbers listed below.
The Columbia Police Department is seeking assistance in identifying an individual involved in a recent vehicle burglary and fraudulent use of a credit/debit card which was stolen during the burglary.
On December 13th 2020, a citizen reported their vehicle was burglarized overnight on Denham Avenue and a purse was taken. A short time after the burglary, the below pictured individual used a credit/debit card obtained from the victims purse, at Walgreens, Taco Bell, and Shell gas station on James Campbell Blvd. This individual was operating a white pickup truck, also pictured below.
Any person with additional information that may assist in this or any other investigation is encouraged to contact Columbia Police Department Dispatch (24 hours) at 931-388-2727, Maury County Crime stoppers at 931-381-4900, or Columbia Police SAFE Tip Email to SafeTips@ColumbiaTN.Com."

Photo Credit: Columbia Police Department.