Kentucky Governor Andy Beshear has declared a State of Emergency after deadly tornados hit resulting in more than 50 fatalities.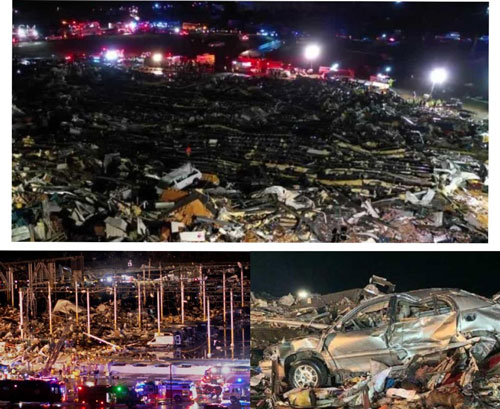 Overnight Friday into Saturday morning four tornadoes struck the western part of Kentucky causing major damage throughout several Counties where one of the hardest hit cities being in Mayfield.
Kentucky Governor Andy Beshear held a Press Conference early Saturday morning where he announced that he has declared a State of Emergency, and submitted a request to the President.
During this Press Conference Governor Beshear confirmed that there was at least 50 fatalities, but sadly expects that number to potentially grow to 70-100 lives lost after reports indicated that a roof collapsed at a candle factory with workers inside.
Governor Andy Beshear issued the following statement:
"This has been one of the toughest nights in Kentucky's history, with multiple counties impacted and a significant loss of life. I have declared a state of emergency and submitted a request to President Joe Biden for an immediate federal emergency declaration.

I want to personally thank every local EMS employee, police officer, firefighter and first responder.

And to all of our Kentucky families impacted by these devastating tornados, we want you to know we are here for you and we are praying for you."
The Governor also announced that 181 national guardsmen are being deployed for search, extractions, and debris clearance.

Photo Credit: WLKY, WLWT, NBC NEWS