One person died, and several people were injured in Tennessee school shooting where authorities are reporting suspect is now in custody.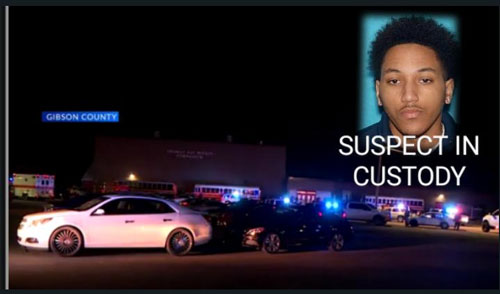 On Tuesday night at a Humboldt High School game one person died, and several were injured after a shooting occurred at the gymnasium.
The Humboldt Police Department issued the following release on Wednesday:
"On November 30, 2021 officers of the Humboldt Police Department responded to the gymnasium at Humboldt High School in reference to shots fired. Upon arrival Justin Kevon Pankey 21-year-old B/M from Humboldt was found shot and did die at the scene. Another subject was shot Xavier Clifton 18-year-old B/M of Jackson, Tennessee was taken by helicopter to a Trauma Center where he was listed in serious condition this morning according to family. A third victim Dontavious Cross was taken to Jackson by POV and was treated and released with non-life-threatening injuries.
After an investigation it was determined that Jadon Davon Hardiman an 18-year-old B/M of Jackson, Tennessee was responsible for the shooting. Warrants have been obtained on Jadon Davon Hardiman for 1st Degree Murder, Attempted 1st Degree Murder with Serious Bodily Injury, Attempted 1st Degree Murder, Armed Dangerous Felons-3 counts, Tampering with Evidence & Carry a Weapon-Gun on School Property.
Jadon Davon Hardiman is not in custody at this time and should be considered armed and dangerous. If any one knows his where abouts or come in contact with him please contact your local law enforcement agency. This is an ongoing investigation anyone with information is asked to call the Humboldt Police Department at 731-784-1322."
After this release was issued on Wednesday the Humboldt Police Department posted an update on the same day around 6:00 p.m. stating that the suspect was now in custody.