After hundreds of FedEx packages were dumped in a ravine in Alabama the Sheriff's Office issued statement on Monday explaining that the employee responsible has been identified.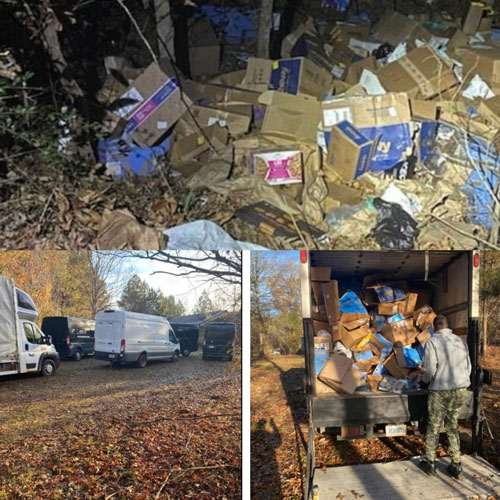 Last week on Wednesday hundreds of FedEx packages were discovered dumped in a ravine in Alabama where the Blount County Sheriff's Office reported that they did not believe that the packages had been there longer than a day or two and FedEx had been contacted.
Reports indicated that originally FedEx sent one truck down to recover the packages, but the company then had to send multiple trucks and drivers from all over the south who worked on Thanksgiving to recover the packages.
Following the incident FedEx released the following statement late Wednesday night:
"The security of our customers' shipments is a top priority and we are committed to treating our customers' packages with the utmost care. We are taking steps to recover and transport the affected packages as quickly as possible. In addition to cooperating with law enforcement, we are conducting a review of this situation and will take the appropriate action."
As the situation has gained a lot of media attention with questions of who was responsible for the mess the Blount County Sheriff's Office issued the following statement on Monday:
"There have been many questions coming in, mainly from media, regarding the FedEx debacle. Investigators have been speaking to FedEx security personnel and the driver has been identified and questioned. More to come, please be patient as we are currently getting into all the details. All the information that we can share will be shared when we can share it.
Thank you,
Mark Moon, Sheriff"