Protesters have took to the streets outside Maury Regional Medical Center in Columbia following
COVID vaccine mandates.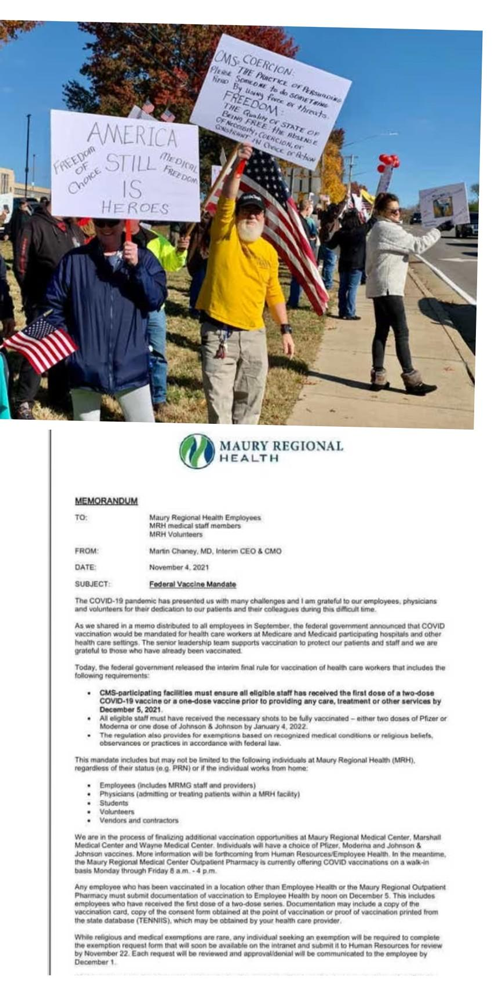 Over the weekend hundreds of protestors against COVID-19 vaccine mandates lined the streets in front of Maury Regional Medical Center in Columbia Tennessee to voice their support for community medical workers who do not wish to get the COVID vaccine.
The protest was a reaction to recently approved federal vaccine mandates, which would require private companies with more than 100 employees to issue vaccine requirements to workers by January 4th with the workers who do not comply to taking vaccine would have to pay to be tested weekly for COVID-19.
Employees at the hospital were issued a letter on November 4th from Dr. Martin Chaney, interim CEO and Chief Medical Officer, the U.S. Centers for Medicare & Medicaid Services (CMS) has stated that all employees of CMS-funded institutions must get at least one dose of the vaccine by December 5th and two doses by January 4th.
Many protesters have stated that the protest isn't about being "anti-vaccine," nor was it about politics, but about how issuing such a mandate could infringe on a person's rights as an American.
Photo Credit: Daily Herald.