Lawrenceburg Fire Department Achieves ISO Class 2 Rating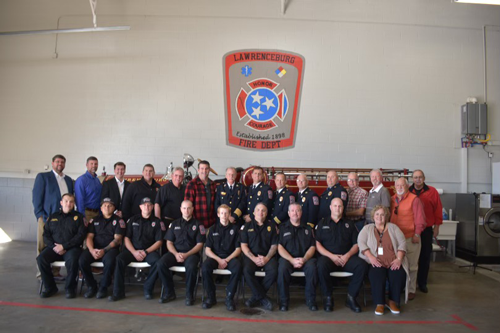 Lawrenceburg, Tenn.—The Lawrenceburg Fire Department (LFD) recently announced its achievement of earning a Class 2 rating by the Insurance Services Office (ISO), which is the second highest possible rating for fire protection services. The new rating will take effect on January 1, 2022.
This Public Protection Classification puts the LFD in the top four percent of fire departments in the State of Tennessee and top five percent of fire departments across the nation.
"We are extremely proud of this accomplishment," said LFD Fire Chief Jay Moore. "The process to get us to this point was extremely challenging. It was a full team effort and took tremendous dedication from all of our personnel."
The scale of PPC rating ranges from one to ten, with Class 1 being the highest. The ISO review process included site visits, records examination and observation. It was also considered an analysis of the structural fire suppression delivery system of the City of Lawrenceburg. Four areas that were evaluated:

⦁ Emergency Communications
⦁ Water Supply
⦁ Fire Department Assessment (including fire service personnel and training)
⦁ Community Risk Reduction

"Improving our rating from Class 3 to Class 2 was a collaborative effort and took the dedication and hard work of many Lawrenceburg City Departments and staff, including not only members of the LFD but also Lawrenceburg Utility Systems, Public Works and the Lawrence County Emergency Communications District Telecommunications Center (E911). This is not just a fire department rating; it is a community rating and helps lower insurance premiums for property owners within the Lawrenceburg City limits," said Moore.

"This lower ISO rating places Lawrenceburg in a favorable light with residents and with economic developers who factor these ratings into their decision making regarding where they plan their next project," said Lawrence County Chamber of Commerce President/CEO Ryan Egly. "Additionally, this rating helps Lawrenceburg recruit industry and commercial investment to locate and expand in our community. I applaud everyone who played a role in this accomplishment."

By classifying a community's ability to suppress fires, ISO helps officials evaluate their public fire suppression services. The PPC program provides a nationwide standard that helps fire departments in planning and budgeting for facilities, equipment and training.

"Congratulations are in order for Chief Moore and his entire staff at the Lawrenceburg Fire Department," said Lawrenceburg Mayor Blake Lay. "Achieving this level of ISO rating is a great accomplishment that most fire departments across the country never reach. We should all be extremely proud of our community for working together to earn this distinction."
The Lawrenceburg Fire Department was established by the City of Lawrenceburg in October of 1898. At that time, the department was all volunteer. Today, the LFD employs 32 full-time personnel and operates out of three fire stations.