Maury County Firefighters were dispatched to rescue a horse trapped in a sink hole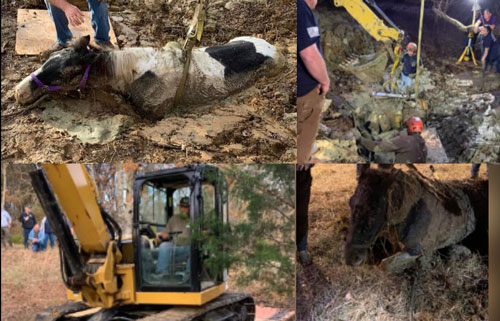 Maury County Fire Department released the following information and photos:
"On Saturday MCFD was dispatched for a horse in a sink hole. Arriving units found a horse in the remnants of a pond (due to drought).
The Maury County Hwy Department was immediately requested for an excavator. Their response and skill was critical to the rescue and we appreciate their professionalism.
MCFD would like to extend our thanks to Ralph Alexander for his response with a backhoe and his skillful use of it during the operation.
The Williamson County Rescue Squad was requested for a large animal harness and they responded with 5 personnel.
MCFD members retrieved plywood from our training center for work platforms.
A veterinarian responded from TN Equine who provided care and sedation during the rescue operation.
After 5 1/2 hours of intense work the horse was successfully removed from the mud.
Our members, who are all volunteers, have been stretched over the past week on serious responses across our 565 square mile response area and we appreciate their selfless dedication."