Lawrence County Fire and Rescue have already respond to 3 calls on Sunday by lunch time.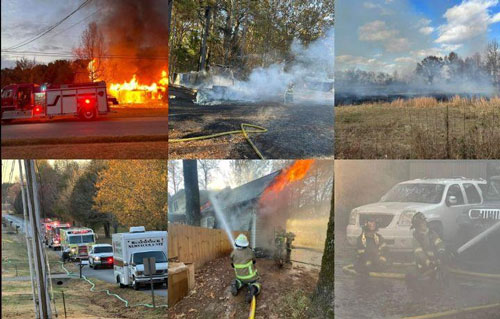 Lawrence County Fire and Rescue released the following information and photos:
"11-12-23
It's Sunday and as of 12:00 PM LCFR units have already responded to three calls for service today. We wanted to take a minute to show you just a small portion of what the last 7 days have brought us. This will be a brief look into the life of a volunteer.
Some of the larger incidents this week include residential structure fires, multi acre brush fires that endangered homes and animals, as well as motor vehicle crashes and high priority medical calls. Many departments held training and the dreaded fundraisers over the past seven days. We are thankful for our volunteers and those who support us.
Do you have time to throw all of this in on top of your home life and career? If you do, we need you ! Consider becoming a professional volunteer firefighter with us at Lawrence County Fire Rescue.
Initial training requirements include 16 hours of introduction to the fire service, 64 hours of basic firefighting, 2 hours of emergency vehicle operations, 40 hours of vehicle extrication, and 8 hours of CPR AED training.
There is plenty more training to follow the initial required training. We will train you.
We need help!"