"Operation Clear Out" has resulted in 20 arrest involving meth distribution in Middle Tennessee.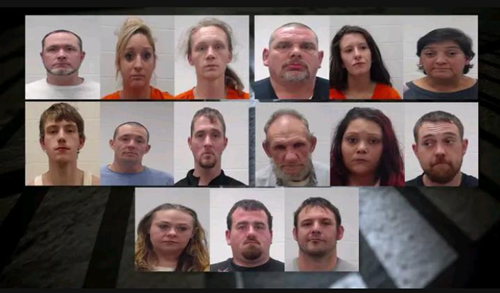 According to reports on Monday, a Wayne County grand jury indicted at least 20 people in connection to "Operation Clear Out," where these individuals are responsible for distributing meth throughout Middle Tennessee.
Wayne County Sheriff Shane Fisher stated that a routine drug investigation that began in August of last year resulted in officers finding hundreds of pounds of crystal meth in Wayne, Perry, Lewis and Lawrence counties.
Sheriff Fisher explains that the people arrested in this operation are not users or manufacturers of meth, but are dealers.
Through their investigation they discovered that the meth being sold in this operation is not being cooked in Middle Tennessee, but is coming from Mexican drug cartels.
This operation even crossed state lines resulting in a large number of local dealers being put in jail where Sheriff Fisher hopes this put a small dent in a very large problem in the community.
The following have been indicted in "Operation Clear Out":
"Anna Marie Smith- Conspiracy to Distribute over 300 grams of Methamphetamine- $100,000 bond
Chassidy Sue Smith- Criminal Responsibility for the Sale of Methamphetamine, Conspiracy to Sell Methamphetamine- $100,000 bond
Tiffany Marie Hinojosa- Conspiracy to Distribute over 300 grams of Methamphetamine, Criminal Responsibility for Sale of Methamphetamine x4- $225,000 bond
Adam Haggard- Sale of Methamphetamine x2, Conspiracy to sell over 26 grams Methamphetamine- $175,000 bond
Elijah Ferguson – Sale of Methamphetamine x2, Conspiracy to Sell over 26 grams Methamphetamine- $150,000 bond