Giles County Sheriff's Department arrested a Summertown man, and a Leoma man regarding a stolen truck.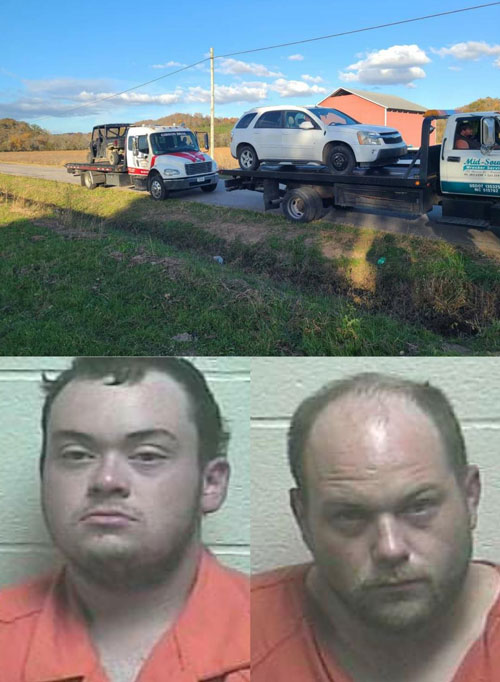 The Giles County Sheriff's Department released photos, and details regarding a truck theft that occurred on Monday:
"On Monday, November 9th, 2020, Sgt. Ryan Hampton responded to the Weakley Creek community in reference to the theft of a motor vehicle. Upon Sgt. Hampton's arrival to the area, he located the stolen truck next to the creek, behind an old mill. An eye witness described a heavy set, white male, with sandy colored hair to exit the truck and get in a white vehicle.
Deputy Boaz arrive on scene to assist Sgt. Hampton and located a white Chevy Equinox pulled over on the shoulder of Weakley Creek. Two male suspects, one matching the description provided, were detained without incident.
The males were later identified as John Michael Hartman, 21 of Summertown, Tennessee and Douglas Andrew Norman, 30 of Leoma, Tennessee.
After further investigation, the white vehicle driven by the suspects was found to be reported stolen out of Mount Pleasant, Tennessee. Suspects were towing a Polaris Ranger behind the vehicle with a log chain. This utility vehicle was stated to have been stolen out of Lawrence County. Along with the vehicles, several other items suspected to be stolen were also recovered to include a firearm.
Information was obtained that the two suspects were involved in the theft of a utility trailer in Lawrence County, Tennessee. Chief Deputy George Barturen of the Lawrence County Sheriff's Department, was notified and the utility trailer in question was recovered and was later found to have been stolen from Crossroads Volunteer Fire Department.
Both Norman and Hartman were placed into custody and transported to the Giles County Jail for housing while awaiting arraignment for charges of Theft of Property and Conspiracy.
"I would like to commend Sgt. Ryan Hampton and Deputy Randy Boaz for their quick actions that led to the arrest of two suspects involved in multiple thefts involving several communities. The people of our community work hard for their possessions and our department will continue to do everything possible to deter such criminal activity." – Sheriff Kyle Helton.
Sgt. Hampton and Deputy Boaz were also assisted on scene by Lt. Justin Young of the Pulaski Police Department, Sgt. Michael Schrader, Investigators Chad Braden, Luke Tyson and Terrence Howard of the Giles County Sheriff's Department.
This case is still under active investigation by multiple agencies. If you have any information of criminal activity, especially John Hartman or Douglas Norman, please call (931) 363-3505 or Lawrence County Sheriff's Office at (931) 762-3626."

Photo Credit: Giles County Sheriff's Department.