Downtown Lawrenceburg & the city of Lawrenceburg secure $150,000 Grant for Main Street Revitalization.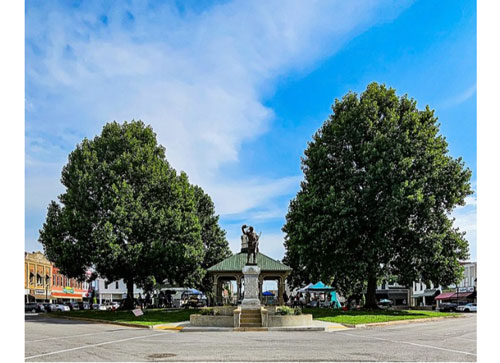 Downtown Lawrenceburg issued the following release:
"Lawrenceburg, TN - 11/09/23
Downtown Lawrenceburg (Main Street Lawrenceburg) is thrilled to announce the receipt of a $150,000 Downtown Improvement Grant from the Tennessee Department of Economic and Community Development (TNECD) and the Tennessee Main Street program. This generous grant will play a pivotal role in revitalizing our historic Main Street, focusing on enhancing downtown facades and public spaces.
The $150,000 grant will be split 50/50 between building and business owners downtown and public improvement projects, fostering a collaborative effort to elevate the aesthetic appeal of our beloved downtown. Downtown Lawrenceburg is proud and excited to partner with the City of Lawrenceburg on this transformative project, emphasizing the commitment to a shared vision for the downtown area.
"We are grateful to TNECD and the Tennessee Main Street program for recognizing the potential of Downtown Lawrenceburg," said Michele Gantz], Executive Director of Downtown Lawrenceburg. "This grant represents a significant investment in our community, allowing us to protect and enhance the unique character and charm that defines our historic Downtown."
"Teamwork is the driving force behind progress, and we're excited to join forces with Downtown Lawrenceburg to improve our Historic Downtown," said Lawrenceburg Mayor Blake Lay. "Our vision is to transform the Downtown area into a destination place for visitors and a gathering place for our community. With this grant, we can make essential renovations that will enhance the charm of our Downtown."
The funds allocated for building improvements will facilitate the restoration of facades, preserving the architectural heritage that makes our downtown area truly special. Simultaneously, investments in public spaces, particularly the downtown public square, will further transform Lawrenceburg into a vibrant and inviting destination.
Jason Grayson, owner of Society American Nosherie, expressed enthusiastic support for the initiative. "Investing in the improvement of our downtown is an investment in our collective future. Enhancing both the public space and building facades will create a more engaging and attractive environment for businesses and customers alike."
Ann Allison Ventures and Plan B Properties, key stakeholders and custodians of multiple buildings and businesses in Downtown Lawrenceburg, join in celebrating the announcement of the $150,000 Downtown Improvement Grant. Their unwavering support and commitment to the revitalization of Downtown underscore the collaborative spirit that defines our community.
"We applaud the dedication of Downtown Lawrenceburg and are thrilled to see this substantial investment in our downtown," remarked Ann Allison Ventures and Plan B Properties. "These improvements will not only enhance the visual appeal of our buildings but also contribute to the overall vibrancy of our community. We are eager to collaborate closely with Downtown Lawrenceburg to ensure that the unique character of each property is preserved and enhanced."
The anticipation for the transformation of the public square is echoed in their sentiments. "As stewards of these buildings, we look forward to witnessing the positive impact of the improvements on the downtown public square. It's an exciting moment for Lawrenceburg, and we are confident that these enhancements will pave the way for a thriving and dynamic future for our beloved Downtown."
The collaboration between Downtown Lawrenceburg, building and business owners, and the broader community exemplifies the collective dedication to preserving the heritage of Lawrenceburg while fostering a forward-looking vision for its downtown. With this grant, we know the future of Downtown Lawrenceburg's public square is poised for greatness.
For more information, please contact:
Michele Gantz
Downtown Lawrenceburg