Lawrenceburg Police Department Lieutenant Blake Grooms Addresses Rotary Club on Friday.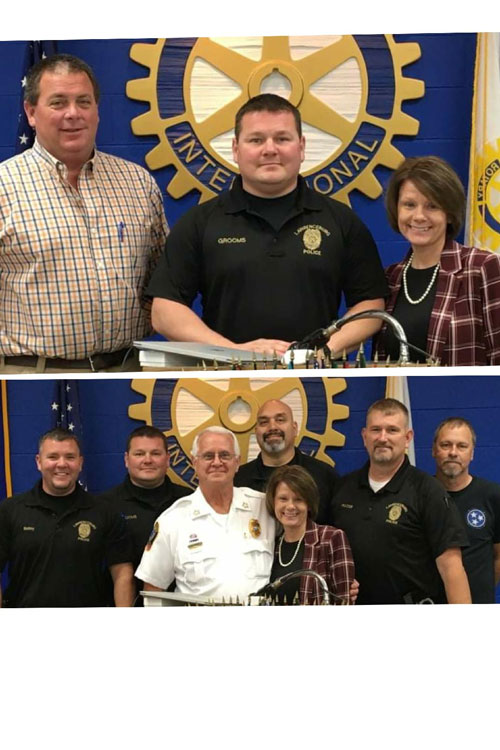 The Lawrenceburg Rotary Club released the following information regarding guest speaker:
"LPD Lieutenant Blake Grooms Addresses Lawrenceburg Rotary Club
Lieutenant Blake Grooms with the Lawrenceburg Police Department presented an interesting program at the Lawrenceburg Rotary Club on Friday, November 6, 2020.
Grooms heads up the department's CID unit which is responsible for investigating local crimes including drug related activities. He stated that drug use is on the upswing in our community, especially for methamphetameme which has become cheap and plentiful in recent years.
Most of the meth in our area is being transported into the community as opposed to being manufactured in local labs.
Grooms commented on the tough times that law enforcement personnel are experiencing in today's political environment, however support from local leadership and the community at large is good.
Rotarian Teresa Frazier introduced the program.
Photo Caption (Left to Right):
Rotary President Heath Hill, LPD Lt. Blake Grooms, Rotarian Teresa Frazier
Photo Caption (Left to Right):
Back Row--CID Unit Det. Rick Bailey, Lt. Blake Grooms, Det. Ray Chevez, Det. Jerry Frazier, Spc. John Sanders. Front Row—LPD Chief Terry Becham, Rotarian Teresa Frazier."

Photo Credit: Lawrenceburg Rotary Club.