Summertown, Tennessee haunted attraction, Mckamey Manor is being investigated by the Tennessee Attorney General's Office after it was featured on a recent Hulu documentary.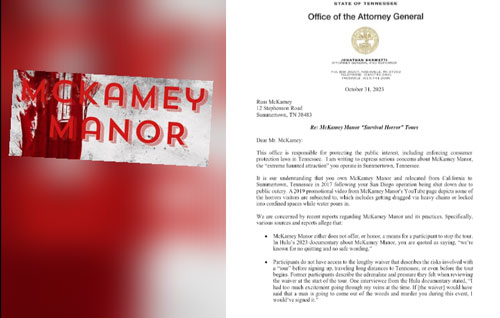 Summertown's McKamey Manor is open all year where the tour features intense lighting, extremely low visibility, strobe and fog light effects, damp and wet conditions and a physically demanding environment.
The Hulu documentary, "Monster Inside: America's Most Extreme Haunted House", featured multiple interviews with participants who've done it as well as the founder Russ McKamey.
Assistant Tennessee Attorney General Kristine Knowles sent a letter to McKamey Manor on Halloween expressing concern over the haunted attraction's business practices.
This is the following message that was posted online:
"Happy Halloween. Today @agtennessee sent a letter to the @McKameyManor raising serious concerns about its business practices in operating its "extreme haunted attraction." This office continues to prioritize the safety and wellbeing of all Tennesseans."
Russ McKamey did respond to the post by saying, "haters gonna hate."
The Tennessee attorney general's office is raising "serious concerns" about McKamey Manor, a haunted experience billing itself as extreme "survival horror" that requires a 40-page waiver, drug test, and doctor's note.
McKamey Manor relocated from California to Summertown, Tennessee in 2017 following public outcry about the horror shop.
McKamey has also been asked in the past if anyone has ever won the challenge.
"Of course not, and they never will, because it's so mentally and physically challenging, but it will be the most exciting thing you've ever done," reads his response, as noted in the letter.
Knowles said the Attorney General's Office will be requesting documents and information from McKamey in the coming weeks.