16 men was arrested in a Rutherford County human trafficking sting by several undercover law enforcement agencies.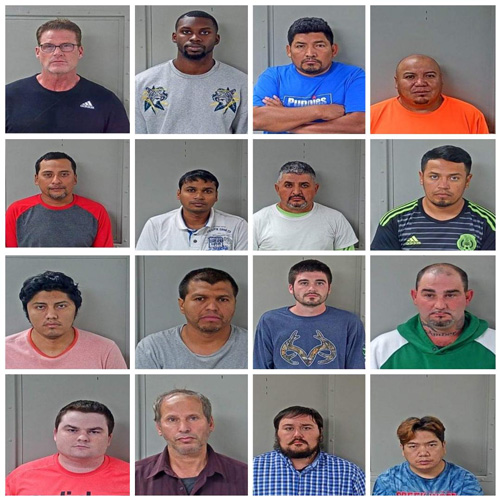 The Rutherford County Sheriff's office along with the Tennessee Bureau of Investigation, the Smyrna Police Department, the Federal Bureau of Investigation, Homeland Security Investigations, and the office of 16th District Attorney General Jennings Jones took part in a 2 day undercover operation that resulted in 16 men being arrested in a human trafficking sting.
The 2 day undercover operation began on October 24th when authorities placed several decoy advertisements on websites known to be linked to commercial sex where the focus of the sting was to identify individuals trying to engage in commercial sex acts with minors.
All 16 men was arrested on charges of trafficking a person for a commercial sex act, and were transported to the Rutherford County Adult Detention Center where the sheriff's office released the names: James H. Farmer of Franklin, Deadrick Darrell Evans of Murfreesboro, Miguel Erazo of Antioch, Luis Miguel Garcia-Alvarez of La Vergne, Paul Florez-Vazquez of Nashville, Jose Guadalupe Zarate-Flores of Smyrna, Taylor Moore of Rombauer, MO, Tony Maddox of Cowan, TN, Gameel Mesad of La Vergne, John Thomas Sulkowski of Murfreesboro, Juan Manuel Tovar
of Antioch, Harry Garcia of Murfreesboro, Michael Romero of Prospect, Lian Sian Thang of Smyrna, Manasranjan Murlidhar Rana of Nashville, and Diego Mancilla Martinez of La Vergne.
Rutherford County Sheriff Mike Fitzhugh spoke on the operation by saying, "Child trafficking is a very serious problem in the nation and a crime we take very seriously. We appreciate the opportunity to participate in the investigation with our federal, state and county law enforcement partners."
Photo Credit: Rutherford County Sheriff's office.