Lawrence County Fire and Rescue staff station due to dangerous fire conditions.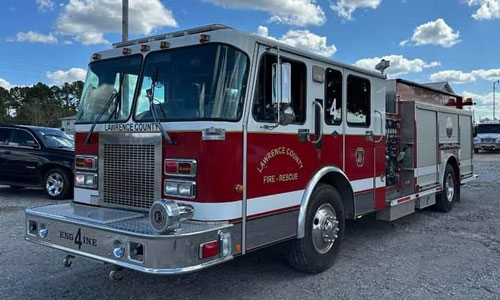 Lawrence County Fire and Rescue issued the following release:
"Date: 10-25-2023
For Immediate Release:
Subject: Volunteers staff station due to dangerous fire weather conditions.
Due to severe drought conditions and high risk for dangerous fire development our members began staffing a fire engine at the Fire Training Center Station. Although only temporary the volunteers of LCFR recognize that the current fire weather conditions require a quicker response than normal in order to protect lives and property.
The members providing staffing coverage during the day time hours are not being paid. They just like all of our members are just trying to make a difference by improving response times during the hours of the day when the majority of our volunteers are at their primary jobs.
Our plan is to continue with volunteer staffing daily until fire weather/drought conditions improve. Today alone members of Lawrence County Fire Rescue along with partner agencies were able to respond to 2 different fires in which the quicker response time allowed our volunteers to save property endangered by fire.
Over the past few weeks the members of Lawrence County Fire Rescue have logged a tremendous amount of man hours daily responding to emergency calls. Our organization is at an all time low on active members and the members that we have are working hard to serve you.
Please support our organization in any way possible. We ask that you refrain from open burning until weather conditions improve. We also ask that going forward you and your family support any programs or opportunities that increase funding for our organization.
We would like to thank the City of Loretto Fire Department for loaning us a fire engine to use for this project."