Wednesday plane crash tragically claims a life in
Lauderdale County Alabama.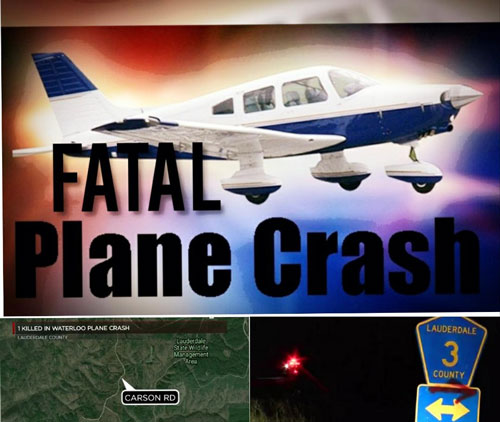 On Wednesday night shortly after 8:30 p.m. Lauderdale County 911 received a call about a possible plane crash where the Waterloo Fire Department along with Alabama Law Enforcement Agency, Lauderdale County Sheriff's Office, and EMA were all dispatched.
Units began searching in the area of the west side of Lauderdale 105 between Panther Creek and the lake where crews used ATV'S as well as police using a helicopter to aid in the search.
Around 11:30 p.m. the helicopter located the plane near the Carson Road area where it had crashed, and tragically killed the only occupant inside.
The Lauderdale County Sheriff's Office has since released the identity of the deceased as 69 year old Jerel Zarestky.
According to reports Zarestky was traveling from Dallas to Knoxville when officials began pinging his cellphone after he did not arrive in Knoxville.
At this time no further details have been released as to what caused the crash that still is currently under investigation.
Photo Credit: WAFF 48.