Lawrenceburg Mayor Blake Lay discusses Domestic Violence Awareness Month in "Mayor Minute."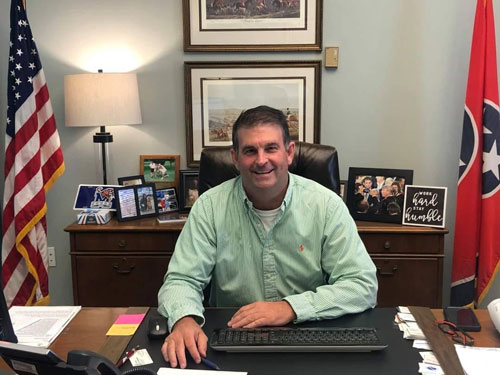 The City of Lawrenceburg, TN Government issues following statement in "Mayor Minute" :
"Mayor Minute
October: Domestic Violence Awareness Month
October is one of my favorite months. In addition to being my birthday month, fall gets into full swing; temperatures get cooler; leaves turn to beautiful colors; football is in the air; and families start anticipating the holiday season that is only a few weeks away. In my opinion, October is filled with fun and happy things!
However, over the weekend, I was given a tragic reminder that October is also Domestic Violence Awareness Month. I saw in the news two heartbreaking stories from South Carolina: 1) in Aiken, a mother and daughter were murdered by the daughter's ex-boyfriend, and 2) in Myrtle Beach, a police officer was shot and killed in the line of duty when answering a domestic call.
So, two South Carolina families were senselessly torn apart because of a person's desire to control and dominate another person, which is at the root of all domestic violence—its own type of epidemic that most people don't want to talk about because everyone has "a right to privacy." But doesn't everyone also have a right to live in a safe, nonthreatening environment?
According to a CDC survey, more than 10 million women and men in America experience domestic violence every year. How does Lawrence County fit into those numbers? Information provided to me from the Lawrence County Sheriff's Department indicates there have been 162 reports of domestic violence just in the last six months right here in our small, tight-knit community.
While most reported domestic violence cases involve only physical assault, there are other types of violence and abuse that don't produce cuts, bruises and broken bones, and those are mental and emotional abuse. The effects of mental and emotional abuse leave wounds that are just as painful as physical ones and leave deep emotional scars that sometimes never heal. This type of abuse is much more difficult to recognize because we don't see the abuser's persistent undercurrent of abusive behavior which involves attempts to frighten, control or isolate another person.
Therefore, as we live each day in October—Domestic Violence Awareness Month—please take time to educate yourself on the signs of all the various types of domestic violence. In my opinion, it is our responsibility to care for our neighbors, and sometimes that is as simple as recognizing the signs of physical and/or mental abuse and offering them the help they might be too afraid to seek for themselves.
If you or someone you know is experiencing any type of abuse, please call The Shelter, Inc at 931-762-1115, a local organization that will offer you unconditional help 24 hours a day, 7 days a week. There is help and hope. Remember…You Matter!"
Photo Credit: City of Lawrenceburg, TN Government.