22nd Judicial Drug Task Force along with the assistance of the Lawrence County Sheriffs Office executed a search warrant at a Lawrenceburg residence that resulted in a large narcotics bust.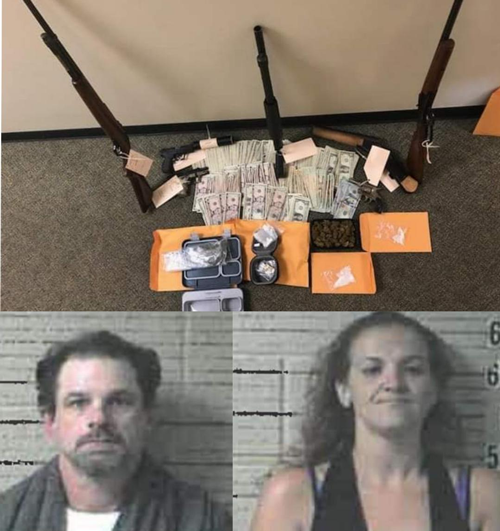 The 22nd Judicial Drug Task Force released the following information:
"Friday October 1st 2021 at approximately 8:10 AM Agents with the 22nd Judicial Drug Task Force executed a search warrant At Christopher Windham's residence, at 1604 A S. Locust Avenue Lawrenceburg, Tn.
During the search warrant, Agents found Christopher Windham in possession of 56 grams of Methamphetamine, 109 grams of Marijuana, 89 grams of unknown white powder, 13 Loritabs and 7 firearms and $3,219 US currency. Digital scales and several pipes, water bongs and several small baggies. One of the firearms was fitted with a suppresser and one being sawed off shotgun.
Hannah Murphy was inside the residence. She was found in possession of 5 grams of Methamphetamine. Christopher Windham and Hannah Murphy were arrested and transported to Lawrence County Sheriffs Department.
Thanks to TBI and Lawrence County Sheriffs Department for their assistance."