SKYBEST COMMUNICATIONS ANNOUNCES LAUNCH OF LAWRENCEBURG FIBER OPTIC INSTALLATION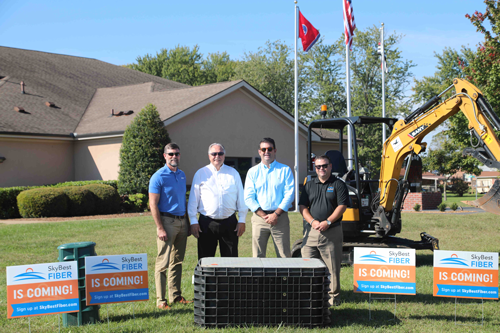 Area Communications & Internet Services Provider to Expand Gigabit Network throughout Area
Lawrenceburg, Tenn. – SkyBest Communications announced the official kickoff of its Lawrenceburg Gigabit Fiber installation today after completing an extensive engineering and mapping phase incorporating the city and linking with the company's extensive fiber network and ring throughout Lawrence County.
The Lawrenceburg service area represents the company's final engineering/installation phase linking the entire Lawrence County area with gigabit fiber service.
Jason Shelton, General Manager overseeing the project, explained, "We are excited to break ground to include Lawrenceburg in our service area. This is the culmination of extensive planning and engineering, with the goal of providing Lawrence County's most extensive, fastest, and most reliable true fiber network."
SkyBest operates gigabit fiber networks in North Carolina, Virginia, and Tennessee. SkyBest CEO, Kim Shepherd, commented, "Making this sizeable investment to provide Lawrenceburg with true fast fiber internet is an example of our proud commitment to our rural customers and areas. We are building a network capable of driving Lawrence County for the next century. Our goal is to offer every Lawrence Countian the capability of accessing this future-proof 100% fiber-optic network."
TR Williams, County Executive, observed, "Having a fiber network throughout Lawrence County this fast and this dependable gives our county a true economic asset that none of our neighboring counties throughout Middle Tennessee and North Alabama can offer."
Blake Lay, Lawrenceburg Mayor, added, "Gigabit fiber broadband is on the top of every interested company, merchant, and business's 'must have' list. This makes Lawrenceburg and Lawrence County more attractive than ever for companies looking for a 21st century home."
Jason Shelton thanked Williams, Lay, and Lawrenceburg Utility Systems General Manager Vic Pusser. "Our strong working partnership with Lawrence County, the City of Lawrenceburg, and Lawrenceburg Utility Systems ensures that our goal of providing fiber internet for every Lawrence County family, business, and school is becoming a reality."
The project is expected to last through 2022. Lawrence County's current gigabit fiber network through SkyBest/Loretto Telecom includes several hundred miles of buried active fiber optic cable. When complete, the Lawrenceburg phase will add an additional 300 miles, for a total network of more than 1000 miles of fiber optic broadband – every mile capable of next generational gigabit speeds.
To learn more about SkyBest Communications or Loretto Telecom, email bridget.holden@LorettoTel.com
or call 931-853-4351.