After knocking on the door of Brian Laudrie's parent's house "Dog the Bounty Hunter" announced that he is joing the search, and then received a tip of a potential camp site of Laudrie.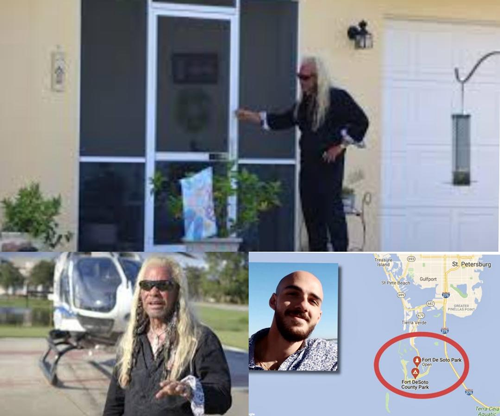 On Saturday, September 25th, The reality TV personality "Dog the Bounty Hunter" Duane Chapman pulled up around 4:30 p.m. to the North Port, Florida home of Christopher and Roberta Laundrie the parents of Brian Laudrie who is a person of interest in the homicide of his girlfriend Gabby Petito.
Unfortunately no one came to the door for Dog the Bounty Hunter where authorties later confirmed that they received a 911 call from Roberta Laundrie on that day stating that Chapman was at their home, but reports indicate that police did not ask him to leave he did so on his own.
Following that incident on the same day Champman spoke with press where he announced he was joining the search for Brian Laudrie, and that anyone with tips regarding Laudrie's whereabouts could contact him at 833-TELL-DOG.
On Monday Champmen received a tip that Laundrie's parents took off on a camping trip with their son in Fort De Soto Park which is located 75 miles away from their home where they went on September 1st through the 3rd, and on September 6th-8th.
According to the tip Chapman received he believes that Laudrie was at that camping site, and didn't return with his parents where he stated, "We think at least if he's not here right now, we are sure he was caught on camera as he went in the gate. Allegedly, what we're hearing, is two people left on the 8th. Three people came in on the 6th, and two people left on the 8th. I think he's been here for sure."
As of right now the search continues for Brian Laudrie who hasn't been charged in the homicide of Gabbie Petito, but on Thursday, federal officials in Wyoming did announce that Laundrie has been charged with unauthorized use of a debit card, alleging he used a Capital One Bankcard and someone's personal identification number to make unauthorized withdrawals or charges worth more than $1,000 during the period in which Petito went missing.
Photo Credit: FOX NEWS, FOX13.