For Immediate Release:
September 23,2023
Subject: LCFR responds to multiple calls at the same time.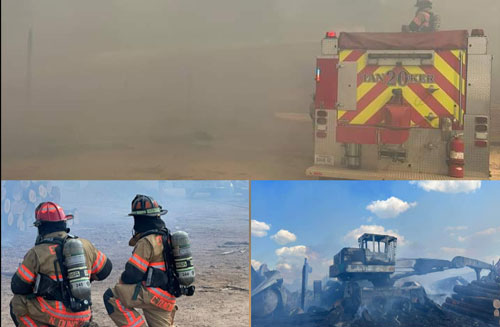 Call # 1
At approximately 2:30 pm units from Ethridge Fire Department were dispatched to a reported structure fire in their first due area. Ethridge units arrived quickly to find that a saw mill, an approximately 5,000 square ft building,approximately 800 gallons of diesel fuel and some heavy equipment was on fire. Additional LCFR units from Henryville,Summertown, New Prospect, and Gandy Fire Stations responded to the scene to help bring the large fire under control before it could cause serious damage to neighboring structures.
Call # 2
Moments after the initial structure fire dispatch while units were en route a second fire was dispatched to Ethridge Fire Department. The second fire was reported to be a field on fire that was endangering structures. Units from Ethridge Fire along with mutual aid from Giles County Fire Rescue responded to the scene and were able to extinguish the fire.
Call # 3
While responding to the initial structure fire one of the responding units discovered a field on fire less than 2 miles from the structure fire. The fire was quickly extinguished by our personnel.
Call # 4
Approximately 2 hours later while our units were returning to service from the original structure fire LCFR units from the Henryville Fire District were dispatched to a motor vehicle crash involving a CMV with multiple patients. Units from Henryville Fire responded to the scene. No serious injuries were reported.