A shooter opened fire inside a Tennessee Kroger on Thursday that left 1 dead, and 12 injured after the horrific attack.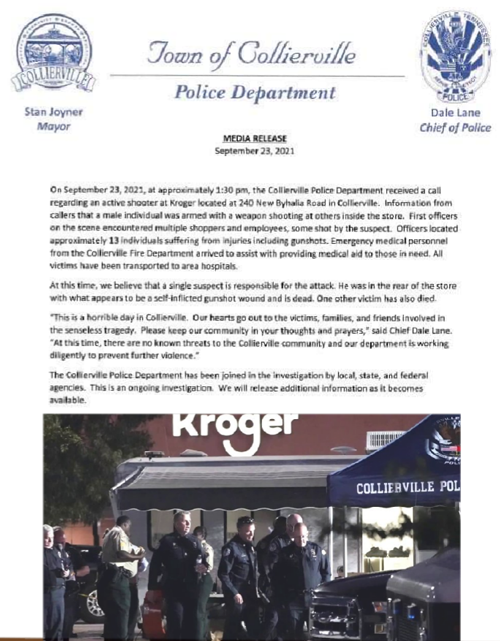 An active shooter was reported on Thursday at a Kroger in Collierville, Tennessee which is located around 30 miles east of downtown Memphis.
The Collierville Police Department issued the following press release:
"On September 23, 2021, at approximately 1:30 pm, the Collierville Police Department received a call regarding an active shooter at Kroger located at 240 New Byhalia Road in Collierville. Information from callers that a male individual was armed with a weapon shooting at others inside the store.
First officers on the scene encountered multiple shoppers and employees, some shot by the suspect. Officers located approximately 13 individuals suffering from injuries including gunshots. Emergency medical personnel from the Collierville Fire Department arrived to assist with providing medical aid to those in need. All victims have been transported to area hospitals.
At this time, we believe that a single suspect is responsible for the attack. He was in the rear of the store with what appears to be a self-inflicted gunshot wound and is dead. One other victim has also died.
"This is a horrible day in Collierville. Our hearts go out to the victims, families, and friends involved in the senseless tragedy. Please keep our community in your thoughts and prayers," said Chief Dale Lane. "At this time, there are no known threats to the Collierville community and our department is working diligently to prevent further violence."
The Collierville Police Department has been joined in the investigation by local, state, and federal agencies. This is an ongoing investigation. We will release additional information as it becomes available.
The shooting that occurred on September 23, 2021, was a tragedy unlike anything the Town of Collierville had ever experienced.
The Board of Mayor and Aldermen express condolences to the victims, families, and friends involved in today's senseless tragedy. We are grateful for the immediate and professional response from the Collierville Police and Fire Departments, and the support from our neighboring local, state, and federal law enforcement. We are praying for the victims and our entire community."