Car crash sparks large fire at Palatec Manufacturing building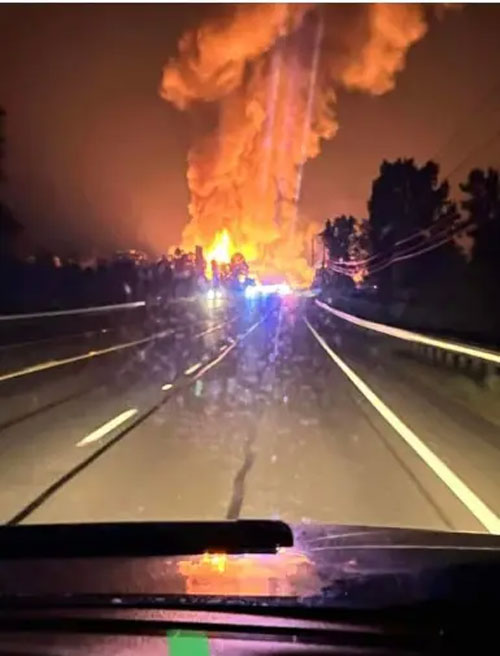 LINCOLN COUNTY, Tenn. (WHNT) — A portion of Huntsville Highway was closed Thursday morning as agencies fight a fire at the Palatec Manufacturing building.
At around 3:41 a.m., the Park City Volunteer Fire Department said they received a call about a two-car collision, where one car ultimately crashed into a telephone pole which fell onto Palatec manufacturing along Highway 431.
Wooden pallets then caught fire, and eventually, some propane tanks were engulfed in flames leading to a massive explosion that was visible for miles. Power was shut off in the area while crews battled the fire.
The heat from the flames actually melted part of a house across Highway 431 from the plant, and the explosion busted several windows nearby. Crews worked throughout the day into the afternoon, and after some time the fire was put out and lanes were reopened.
Park City Fire Department Captain Collin Stovall says he's never seen a fire like the one he fought today.
"When I was pulling in the fire department to get the truck, and I pulled back out, I could see a large amount of fire and I'm about four miles out," Stovall said. "Biggest fire that I have ever seen, ever worked. The explosion was two large propane tanks."
The Park City Fire Department said it wants to thank all of the Lincoln County volunteer firefighters, Fayetteville Fire, the Lincoln County EMS and Sheriff's Department, Fayetteville Public Utilities, Stovall Wrecker Service, Tennessee Department of Transportation and Highway Patrol, Moore County Fire, Giles County Fire and Franklin County Fire for assisting in the response.
Captain Stovall also asked that people keep the employees of Palatec and the Cowley family in their thoughts, as those people begin the road to rebuilding after this incident.