Congratulations to the Loretto High School Band!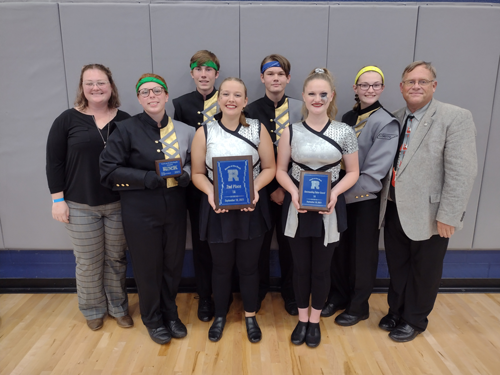 On Saturday, September 18, 2021, The Loretto High School Band performed at the Bands at the Rock Marching Contest hosted by the Rockvale High School Band in Murfreesboro, TN.
This was the first marching contest for all the bands involved in almost two years. Band director Darrell Boston stated, "It was truly a wonderful day for the bands to finally get to perform for a live audience once again even though we had to battle the rain."
Photo: Front row: (L-R) Gracie McClurkan, Eliza Hill, Emma Bitting.
Back row: (L-R) Kalee Richardson, color guard instructor, Brayden Long, Parker Way,
Katie Kennedy, Darrell Boston, Band Director.