Barricaded Subject Arrested Saturday Night in Lawrence County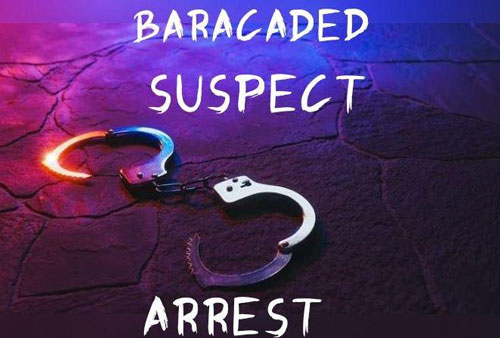 AN ATTEMPT TO SERVE AN ARREST WARRANT OVER THE WEEKEND LED TO A STAND OFF SITUATION IN LAWRENCE COUNTY.
ACCORDING TO REPORTS DEPUTIES WITH THE LAWRENCE COUNTY SHERIFF'S OFFICE RESPONDED TO GRACE LANE SATURDAY NIGHT AROUND 11:30. DEPUTIES PARKED NEXT TO THE RESIDENCE WHERE ROY JAMES FAULK RESIDES.
UPON ARRIVAL AS THE DEPUTIES WERE EXITING THEIR VEHICLES, THEY OBSERVED A WHITE MALE WALKING UP TO THE HOUSE. THE MALE TOOK OFF RUNNING TO THE HOME AND DEPUTIES CHASED HIM UP TO THE PROPERTY AFTER ANNOUNCING THEY WERE LAW ENFORCEMENT.
FAULK BARRICADED HIMSELF INSIDE AND MADE SEVERAL THREATENING STATEMENTS TO THE DEPUTIES. THE MALE WAS ARMED WITH A STICK, TWO KNIVES AND A HAMMER AND AT ONE POINT LIT SOME CLOTHES ON FIRE WHICH HE PUT OUT.
DEPUTIES WERE ABLE TO NEGOTIATIE WITH FAULK AND HE EVENTUALLY CAME OUT AND WAS APPREHENDED. HE WAS TRANSPORTED TO THE LAWRENCE COUNTY JAIL AND NOW FACES AN ADDITIONAL CHARGE OF EVADING ARREST.