Nick Beres NC5

HOW ABOUT SOME GOOD NEWS?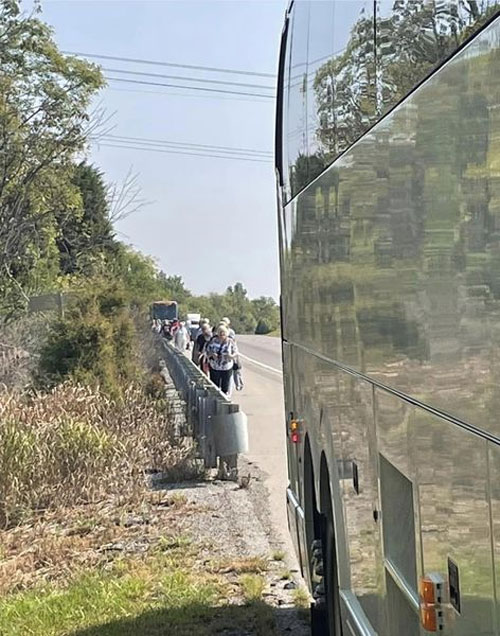 You know I post a lot of different stories on this Facebook page.
Hands down, my favorite stories are those shared with me by you.
The type of story you won't find anywhere else.
And whether you are a follower in Tennessee … New York … Texas … Oregon … or overseas in Italy — it will leave you smiling.

I'm talking about personal stories of the human condition and people helping people.
SO, FOR YOUR READING PLEASURE I GIVE YOU THIS:
BIll Adams owns First Class Charter buses in Lawrenceburg, TN.
He and his buddy Jeff Johnston had just bought and picked up a new bus in Vermont.

They were driving it back today to Tennessee … and Jeff says:
"Almost to Louisville we see a bus broke down on the side of the road.
Bill says wanna stop and help?
I get her stopped about 100 yards past.
Bill hustles back to the other bus."

Turns out it was a tour bus from Canada loaded with about fifty senior citizens heading to Music City to see the Grand Ole Opry.
A huge group stranded there on the interstate.
It was hot … the bus had no air … and they had been on the shoulder for more than an hour.
And Jeff says what I am thinking:
"WHAT ARE THE ODDS AN EMPTY BUS WILL BE DRIVING BY?
EMPTY.
HEADED TO NASHVILLE?"
Well, you know what happened next.
All those seniors boarded Bill and Jeff's bus and they made it to the Opry safe and sound for tonight's show.
I'm told the Canadians were very appreciative … and they got a heaping helping of Tennessee hospitality.

Bill tells me, "We always try to help when we see other buses broken down."
But I get the sense Bill and Jeff would stop to help anyone.
No wonder the bus line is called FIRST CLASS charter.
CLASS ALL THE WAY.