Lauderdale County Sheriff's Office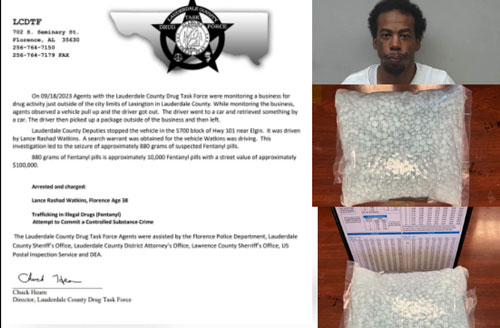 On 09/18/2023 Agents with the Lauderdale County Drug Task Force were monitoring a business for drug activity just outside of the city limits of Lexington in Lauderdale County.
While monitoring the business, agents observed a vehicle pull up and the driver got out. The driver went to a car and retrieved something by a car. The driver then picked up a package outside of the business and then left.

Lauderdale County Deputies stopped the vehicle in the 5700 block of Hwy 101 near Elgin. It was driven by Lance Rashad Watkins. A search warrant was obtained for the vehicle Watkins was driving.

This investigation led to the seizure of approximately 880 grams of suspected Fentanyl pills. 880 grams of Fentanyl pills is approximately 10,000 Fentanyl pills with a street value of approximately
$100,000.
Arrested and charged:
Lance Rashad Watkins, Florence Age 38
Trafficking in Illegal Drugs (Fentanyl)
Attempt to Commit a Controlled Substance Crime
The Lauderdale County Drug Task Force Agents were assisted by the Florence Police Department, Lauderdale County Sheriff's Office, Lauderdale County District Attorney's Office, Lawrence County Sherriff's Office, US Postal Inspection Service and DEA.