Flash Flooding in Ardmore Alabama submerged several roadways, and homes resulting in death after a man was swept away from his vehicle.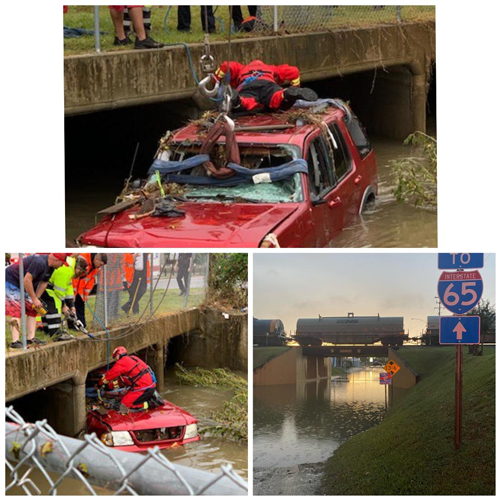 On Saturday Flash Flooding impacted several parts of Ardmore Alabama where Tuscaloosa Police Department dispatchers reported receiving 105 calls between 12:30 p.m. and 6 p.m. with nearly all of them relating to flooding
Heavy rains flooded several roadways as well as homes with the Limestone County Emergency Management Agency reporting that one home was swept off its foundation by rising floodwaters within 30 to 40 minutes.
The Ardmore Fire Department has stated that temporary housing is being provided for several displaced homeowners until a more permanent living situation can be found.
Ardmore's downtown area was also shut down after an underpass along with several vehicles had become submerged where units were dispatched to a SUV that had been swept away.
Tuscaloosa Fire and Rescue along with the Police Department was dispatched to Bonita Terrace around 2:11 p.m to the SUV that had been swept into a drainage ditch that runs west alongside 14th Avenue, behind Fitts Industries and under Greensboro Avenue.
Search effforts began after rescuers were unable to locate the driver of the SUV, but sadly his body was recovered a quarter mile downstream from where the vehicle was discovered.
The Tuscaloosa Police Department confirmed that the driver's body was recovered, and the drowning victim was identified as 40 year old, Kelvin Watford, a Tuscaloosa resident.
Photo Credit: Tuscaloosa Fire and Rescue, Limestone County Emergency Management Agency.