Maury County Fire Department responded to a concrete truck rollover on Columbia Rock Road.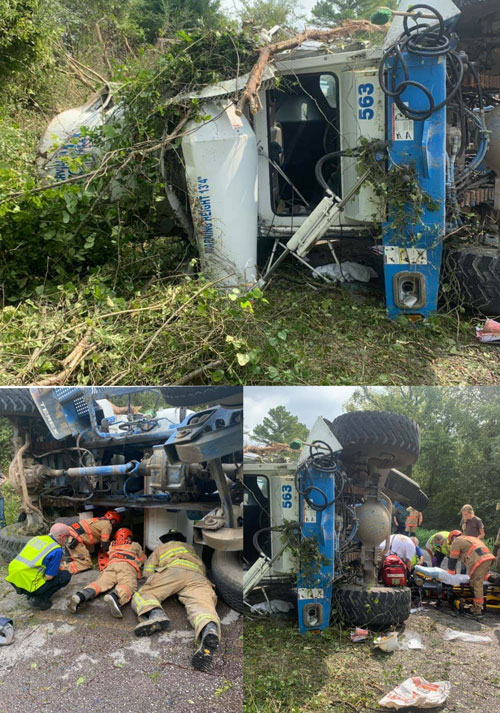 According to the Maury County Fire Department their units were dispatched to Columbia Rock Road near Theta Pike in reference to a Concrete truck that had rolled over.
Responding units with Rescue 1, Engine 1, Engine 7, District Chief 1, Division Chief Hickman, OEM with spill containment, Maury EMS, MCSO, and THP along with Class A wrecker was immediately requested from D and D towing all arrived at the scene.
Upon arrival crews located the driver underneath the truck, but luckily the victim was reported to be trapped in a void space.
Rescue 1 went to work cutting the steps off the vehicle to allow the patient to be removed where the windshield was also removed to allow access to personnel to help facilitate the removal as well.
The patient was then transported by Maury EMS in stable condition.
The Maury County Fire Department released the following statement:
"Special thanks to Vulcan Materials who is located around the corner and responded with a large loader and rigging straps and chains in the event their assistance was needed to lift the vehicle as well. This makes two days in a row that outside industries were willing and able to help in unusual circumstances and we appreciate their assistance."
Photo Credit: Maury County Fire Department.