The Maury County Fire Department was dispatched Thursday morning to reports of an injured railroad worker.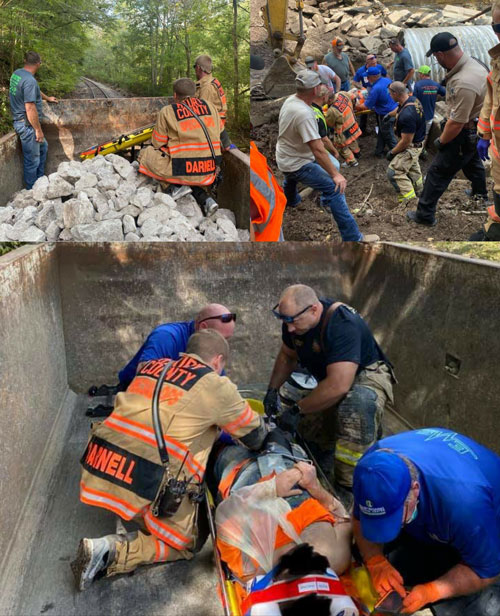 On Thursday morning the Maury County Fire Department along with Rescue 1, District Chief 1, Asst Chief Periut, Chief Hileman, OEM with their ATV, Maury EMS with a unit as well as their ATV, and MCSO were all dispatched to the Sandy Hook area with reports of an injured railroad worker.
Upon arrival units were informed that the injured railroad worker was crushed by a boulder, but was no longer trapped.
With the closest road being approximately 2.5 miles from the injured worker crews worked with dump truck driver to use the truck equipped to drive along tracks to transport the victim to the road.
Units assisted Maury EMS with care and packaging as well as the dump truck dumping their load of rock where the patient could be loaded.
The injured worker was flown to VUMC via Vanderbilt LF 5 in serious, but stable condition.
Maury County Fire Department also issued a Special thanks to all the railroad workers and Bassham Excavation workers for helping throughout the process.
Photo Credit: Maury County Fire Department.