Tennessee Governor Bill Lee and Tennessee Department of Economic and Community Development (TNECD) Commissioner Stuart McWhorter announced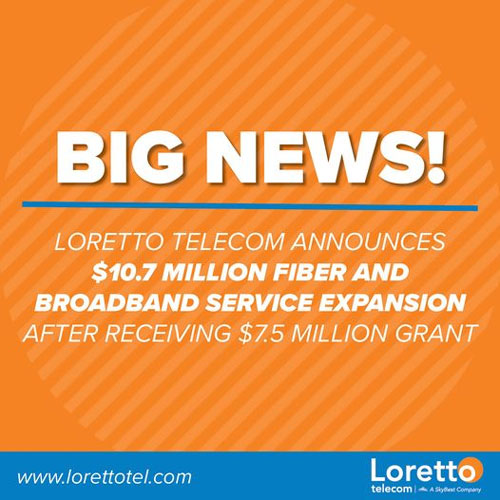 Tuesday that the state will award $7,466,068 to Loretto Telecom, a Skybest Company, to continue its fiber optic/broadband expansion throughout Lawrence County.
The broadband infrastructure grants a total of $446,770,282 across the state and will provide broadband access to more than 150,000 unserved homes and businesses across 58 counties.
Jason Shelton, Loretto Telecom General Manager, commented, "First off, we are grateful for the continued partnership from both the State and local levels of Leadership who truly recognize the digital divide in rural areas. This grant will support another 150~ miles of new fiber infrastructure and provide future-proofed services to over 1,800+ Lawrence Countians." He added, "As part of Loretto Telecom's ongoing commitment to Lawrence County, we are matching the $7.5 million in state grants with an additional $3.2 million of our own funds, for a total $10.7 million to continue to bring 21st-century internet throughout this great county."
Governor Bill Lee observed, "People are moving to Tennessee from across the nation in record numbers, and we have an obligation to prepare our state for continued growth. Our strategic investments in broadband infrastructure will ensure our rural communities are connected and have every opportunity to thrive, and I thank the Financial Stimulus Accountability Group for managing dollars effectively to serve Tennesseans."
David Morgan, Lawrence County Executive reflected, "Nothing is more crucial to a community's quality of life than access to broadband, especially in rural areas. I thank the State of Tennessee for its commitment to rural residents across the state, and Loretto Telecom for its commitment to Lawrence County. This investment is a tremendous blessing for our county as a whole and for every household it touches."
Ryan Egly, Lawrence County Chamber of Commerce President and CEO added, "For more than 125 years, Loretto Telecom has equipped Lawrence County businesses and families with the reliable telecommunication service essential to an ever-increasing digital economy and lifestyle. With this combined $10 million investment, the State of Tennessee and Loretto Telecom have solidified their commitments to developing rural economies by providing access to broadband internet across our community."
Funding for these grants comes through the Tennessee Emergency Broadband Fund –American Rescue Plan (TEBF-ARP), which utilizes a portion of the state's federal American Rescue Plan funds to address the economic fallout of the COVID-19 pandemic and work toward a strong recovery. Tennessee's Fiscal Stimulus Accountability Group (FSAG) dedicated $500 million to broadband funding from this program, with more than $446 million going to infrastructure and nearly $50 million going to broadband adoption and digital literacy efforts.