Three Tennessee Air National Guard members tragically died in Tuesday plane crash.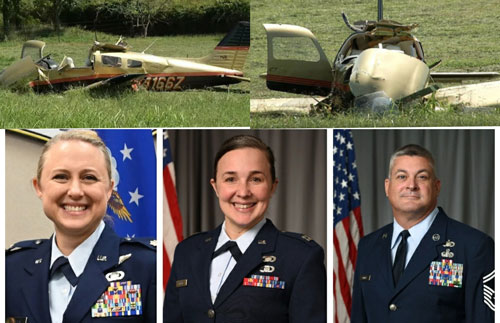 The Warren County Sheriff's Department confirmed that three members of the 118th Intelligence, Surveillance, and Reconnaissance Group with the Air National Guard in Tennessee have died in a small plane crash that occurred out of the Warren County Memorial Airport on Tuesday morning.
The victims of the plane crash have been identified as 45-year-old Lt. Col. Shelli Dawn Huether, 38-year-old Captain Jessica Naomi Wright, and 53-year-old Senior Master Sgt. Scott Alan Bumpus.
Reports indicate that the three victims were not on duty during the time of the crash where the single-engine Piper PA-28 airplane had previously taken off from the runways at the airport before immediately crashing in a farmer's field.
Tennessee Governor Bill Lee expressed his condolences in the following statement:
"We are incredibly saddened by the sudden and tragic loss of three Airmen in yesterday's accident. I ask Tennesseans to join Maria and me in praying for Lt. Col. Shelli Huether, Capt. Jessica Wright, Senior Master Sgt. Scott Bumpus, and their loved ones during this difficult time."
Photo Credit: FOX17.