The Latest: Robert E. Lee statue removed from its pedestal on Monument Avenue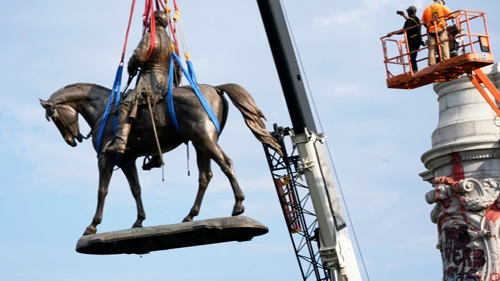 RICHMOND, Va. (WRIC) — The country's largest Confederate statue, and the last one standing on Richmond's Monument Avenue, was removed this morning. The Robert E. Lee statue weighs more than 12 tons and was lifted off its granite pedestal in full. It will now be deconstructed for moving purposes.
The 40-foot pedestal will remain in place for now, with its final destination to be determined by a community-driven event to re-imagine Monument Avenue.
Roads around the Lee monument have been closed since Tuesday and will remain closed through Saturday. Street signs in the area indicate where parking is temporarily not permitted. A number of tow trucks have been seen in the area this morning as Richmond police and others patrol the area.
Virginia Gov. Ralph Northam and Attorney General Mark Herring made remarks following the statue's removal.
Gov. Northam said this has been a long time coming and is important for Virginia's healing. Northam thanked Virginians for doing the right thing after 402 years of history.
"With the removal of this grandiose monument to a past that no longer represents who we are as a Commonwealth, we can turn the page to a new chapter," AG Herring told reporters.