Cheatham County Sheriff's Deputies along with Ashland City firefighters risked their own lives to save a woman who jumped off a 150 foot cliff.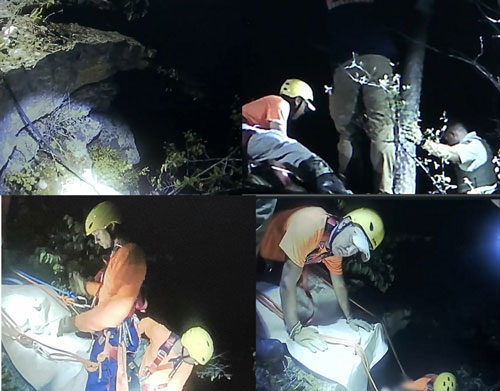 The Cheatham County Sheriff's Department along with Ashland City Fire Department were dispatched on August 21st around 4:00 a.m. to reports of a female subject who had jumped from a 150 foot cliff.
Body cam video was captured by Cheatham County Deputy Zack Roesler, and Corporal Martin Aubrie who arrived at the scene first at Feather Ridge which is around 150 feet above the Harpeth River.
The Cheatham County Deputies risked their own lives while waiting for Ashland City Firefighters to arrive where they reached the 53 year old female who threw herself off the cliff, and secured a rope around her to prevent her from falling further down.
Luckily the woman was alive as she only fell 10 to 15 feet down the cliff instead of the entire 150 feet where she reported to Deputies complaints of head, and back injuries.
Once Ashland City firefighters arrived crews were able to conduct a successful rope rescue pulling the woman to safety.
The woman was then transported to a nearby hospital along with a treatment facility related to the suicide attempt.
Due to the heroic efforts of the Deputies that risked their lives the Sheriff's Department stated both men will soon be up for a commendation.
If you have thoughts of suicide you can get help by calling the Suicide Prevention Hotline (800) 273-8255
Photo Credit: Cheatham County Sheriff's Department/ WKRN Andy Cordan.