Maury County Firefighters conducted a night rescue after female jumped in Duck River while male suspect was being arrested.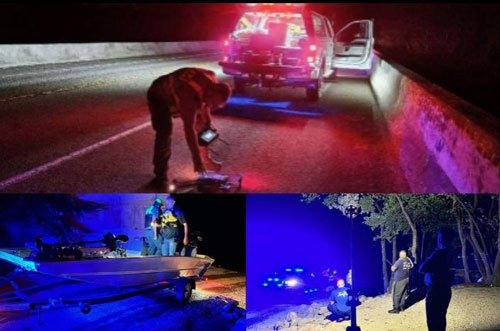 Maury County Fire Department released the following information and photos:
"On Thursday night at 9:08PM MCFD was dispatched to Williamsport Pike at the Duck River Boat Ramp for an adult female who ran from MCSO and jumped into the river as they were arresting an adult male.
Responding units: Engine 8, Boat 1, District Chief 4, Division Chief Craft, and the Deputy Chief.
Units launched a multi-faceted search including an MCFD boat, a MCSO boat, an OEM drone, and a ground search with four wheel drive vehicles. Maury EMS was on site standing by in case the female was injured.
Ground units were guided into dense vegetation showing heat signatures found by the OEM drone and located several bedded deer.
At approximately 11:30 ground units found the female uninjured in a field over one mile down river from where she entered. The female was turned over to law enforcement officers.
Units returned to service just after midnight."