Lawrence County Firefighters are spreading the word about closing doors in your home.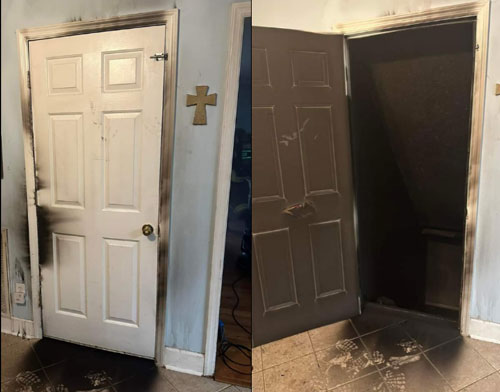 "Help us help you ! How many times have we discussed the benefits of closing doors in your home as it pertains to fire spread? A prime example of this was observed in Lawrence County just yesterday.
On the afternoon August 26,2023 during a lightning storm Lawrence County Fire Rescue Departments were dispatched to West Laurel Drive for a reported residential structure fire.
Our units arrived on scene along with automatic aid units from Lawrenceburg Fire Department. First arriving units found heavy fire conditions in the basement with smoke and flames venting from the exterior. As fate would have it our first arriving pumper was a mini pumper that was returning to the station from a medical call.
The quick attack pumper that is equipped with only 300 gallons of water arrived on scene where Lawrenceburg firefighters joined LCFR personnel in executing an aggressive interior fire attack. Additional personnel and equipment responded to the scene to assist. We are more than proud of the great knock down of the fire made by firefighters on the scene, but we have to give credit where credit is due.
In this situation the homeowners shut the door at the top of the stair case that leads from their basement to the first floor of the home before they left to visit a friend in the hospital. The homeowners stated that this is not always a regular practice of theirs, but in this case it definitely paid off. By shutting the interior door between the floors the door acts as a fire wall of sorts until the door can no longer withstand the heat at which point it will fail.
While acting as a fire wall the door does several things that benefit us in fire suppression. The closed door prevents superheated gases that fuel the fire from spreading to the next area and igniting. The door also helps hold heat and smoke damage from rising into the next floor or area thus saving damage to the structure and personal items.
The closed door also prevents fresh air from forming a flow path that will fuel the fire to help it grow. In this case the door helped hold the fire to the original floor of origin so that the fire department could arrive and attack the large fire load in the basement instead of the alternative which would be fire personnel arriving to find that the fire had extended to multiple levels.
If a picture is worth 1,000 words, check out the pictures below.
In a field where it is often hard for us to always find the good in bad situations we are thankful to the Lord for allowing us to be a part of it while keeping everyone safe."