Saturday August 26th was a busy day as usual for Lawrence County Fire Rescue members.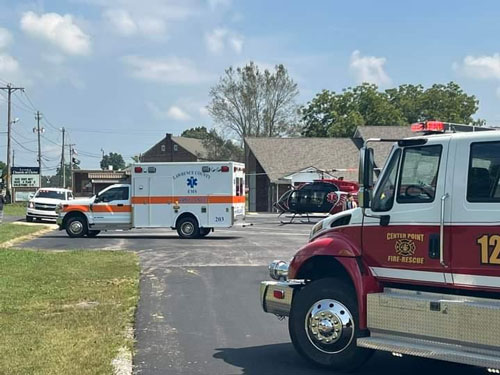 Along with regular scheduled training and fundraisers our volunteers responded to the following emergency calls. The calls are listed in chronological order. As you can see our members responded to the first call for service at approximately 5:40 AM. Our personnel were still on calls after the stroke of midnight.
5:40 AM - Motor Vehicle Crash / Serious Injuries
10:23 AM - Med Call / Trauma / Landing Zone for medical helicopter.
1:32 PM - High Priority Med Call / Rescue possible.
1:42 PM - High Priority Med Call / CPR in progress
3:57 PM - High Priority Med Call / Trauma
4:23 PM - Severe Weather / Damage
4:53 PM - Residential Structure Fire / Flames & Smoke Visible
6:24 PM - High Priority Med Call / Pediatric Trauma
9:44 PM - Special Operations / Drone Team Requested to assist Law Enforcement.
We are thankful for healthy working relationships with our local E-911, Law enforcement agencies, Emergency Medical Services, and neighboring fire departments. We are blessed to work along side the best in every discipline.