A total of 44 suspects were indicted after a year long Tennessee meth investigation known as "Operation Sundown."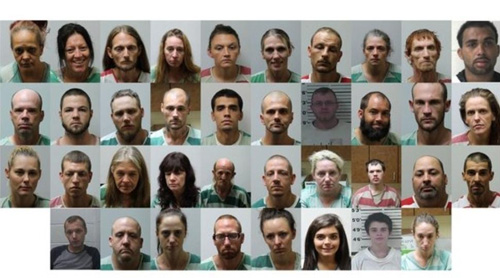 The year long "Operation Sundown" was conducted by the Carter County Sheriff's Office along with the Elizabethton Police Department Joint Drug Task Force.
The operation resulted in 44 suspects being indicted in a grand jury presentment on multiple charges which include conspiracy to sell or deliver methamphetamine that carry a minimum sentence of 15 years in prison.
Officers last week then worked together to conduct a roundup operation to arrest the majority of the indicted suspects where authorities are still searching for 6 suspects.
During the arrest officers seized drug related assets of money and vehicles along with more than $31,000 worth of methamphetamine.
Sheriff Dexter Lunceford spoke on the operation by saying, "We will never be able to completely stop all drug usage, What we can do is disrupt the supply of illegal narcotics. This operation focused on arresting the meth dealers and their suppliers and preventing them from selling in future."