Hurricane Laura made landfall early Thursday morning causing widespread damage, and bringing about a chemical fire that is released a large cloud of "extremely dangerous" smoke into the air.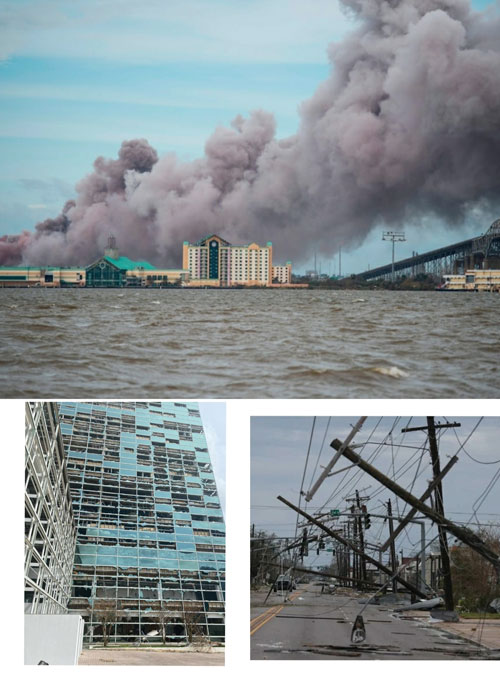 Hurricane Laura which had upgraded to a category 4 storm hit southern Louisiana early Thursday morning, and made landfall around 1:00 a.m. near Cameron, La., which is about 35 miles east of the Texas border.
In downtown Lake Charles, La., Laura's devastating winds caused damage that destroyed buildings, homes, and even caused an industrial plant that makes chlorine-based products nearby to catch fire after the hurricane had passed through.
KIK Custom Products is the industrial plant who has confirmed that the fire is burning at a Biolab plant that sits in an industrial park along Interstate 10.
Interstate 10 was immediately closed due to the caustic smoke which can be extremely dangerous if inhaled where authorities warn that the smoke could contain chlorine, nitric oxide and other toxins used in industrial and commercial disinfectants for swimming pool maintenance.
Following the incident a shelter-in-place order was issued in Sulphur, La., where authorities are warning people to stay indoors with their windows closed.
The industrial company issued the following statement on Thursday afternoon:
"KIK Custom Products confirmed that, as a result of damage sustained during Hurricane Laura, there is currently a fire at one plant located at the company's Biolab Lake Charles, LA facility. Our priority is the safety and well-being of the Lake Charles community of which we are a part. We are deploying a specialized team to the site, and we are working with first responders, local authorities, and environmental agencies to contain and mitigate the impact of this incident as quickly as possible. The facility had been evacuated when the hurricane was upgraded to category 4 after following shut-down protocols, and all employees are confirmed to be safe at this time. We will provide additional information as it becomes available."
Photo Credit: Andrew Caballero-Reynolds/AFP/Getty Images, Eric Thayer, getty images,