Hurricane Laura has rapidly intensified into a Category 4 with up 145 mph winds, and evacuation is taking place.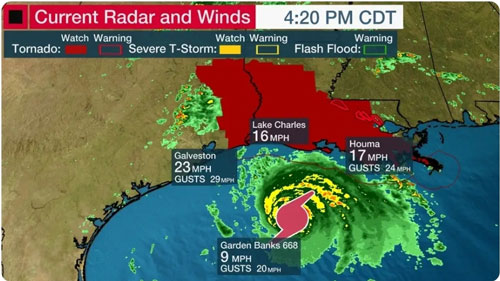 According to the National Weather Service Hurricane Laura has intensified within the last 24 hours where maximum sustained winds has jumped from 75 mph to 140 mph, and is now a category 4.
Hurricane Laura is expected to make landfall Wednesday night into early Thursday near the border between Louisiana and Texas with the Hurricane expected to penetrate as much as 30 miles inland as well.
Local Emergency Management have notified residents in the areas of the life threatening surge heading their way where evacuation orders have been instructed where residents need to take necessary precautions to protect life and property.
A hurricane warning is now in effect from San Luis Pass, Texas, to Intracoastal City, Louisiana. This includes Galveston, parts of the east Houston metro area, Beaumont and Port Arthur, Texas, Lake Charles, Louisiana, and several additional inland counties and parishes of east Texas and western Louisiana extending north of Interstate 10. Hurricane conditions (winds 74 mph or greater) will
conditions (winds 74 mph or greater) will affect these areas Wednesday night and Thursday.
Tropical storm warnings extend into the rest of the Houston metro area, parts of northeast Texas, northern Louisiana and southern Arkansas.
The NOAA's Storm Prediction Center has issued a tornado watch until 9 p.m. CDT for parts of Louisiana and southeastern Texas. The watch area includes Baton Rouge, Alexandria, Lake Charles and Lufkin.
Photo Credit: The Weather Channel.