THIS YEAR, AS PART OF THE 18TH ANNUAL LAW ENFORCEMENT CHALLENGE,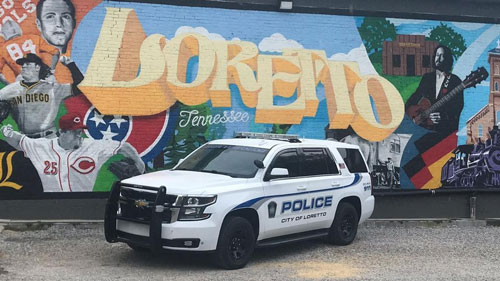 THE TENNESSEE HIGHWAY SAFETY OFFICE WILL OFFER "TENNESSEE'S BEST-LOOKING CRUISER AWARD" TO RECOGNIZE THE LAW ENFORCEMENT AGENCY WITH THE COOLEST CRUISER PHOTO.
ALL LAW ENFORCEMENT AGENCIES IN TENNESSEE ARE ELIGIBLE TO PARTICIPATE. AREA LAW ENFORCEMENT AGENCIES PARTICIPATING INCLUDE:
LORETTO POLICE DEPARTMENT, COLUMBIA POLICE DEPARTMENT, MAURY COUNTY SHERIFF'S DEPARTMENT, COLLINWOOD POLICE DEPARTMENT, WAYNE COUNTY SHERIFF'S DEPARTMENT AND GILES COUNTY SHERIFF'S DEPARTMENT.
TO VOTE GO https://tntrafficsafety.org/cruiser-voting-2022. THE DEADLINE TO VOTE IS WEDNESDAY AUGUST 3RD AT 4.