Middle Tennessee District Fair Organizers Announce 2021 Arena Event Line Up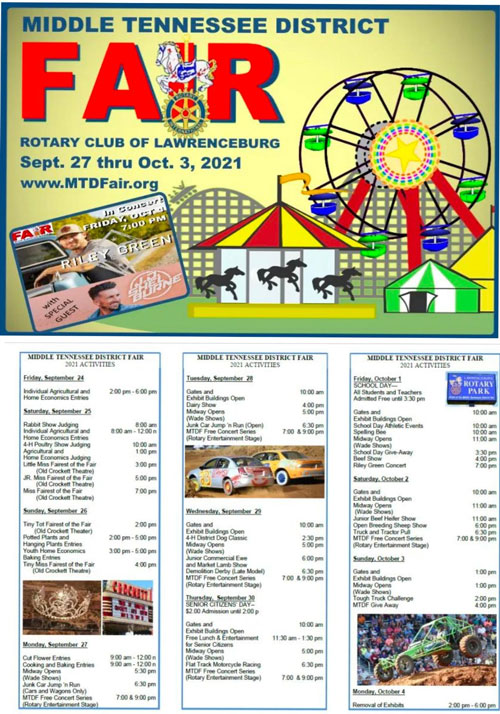 Organizers of the Middle Tennessee District Fair have announced the schedule for nightly arena events at the 2021 fair.
This year's events include:
Monday and Tuesday, Junk Car Jump 'n Run
Wednesday, Late Model Demolition Derby
Thursday, Flat Track Motorcycle Racing
Friday, Riley Green in Concert with special guest J. D. Shelburne
Saturday, Truck and Tractor Pull
Sunday, Tough Truck Challenge and Vehicle Give Away
According to Fair Manager Tad Keaton "The Middle Tennessee District Fair is happy to be returning in 2021 after the Covid-19 Pandemic forced us to cancel last year's event. We can hardly wait to see the lights, hear the sounds, smell the great food, and most of all see the smiles of our many visitors at the 2021 Middle Tennessee District Fair".
The fair opens at Lawrenceburg Rotary Park on Monday, September 27, 2021. Fairest of the Fair pageants will be held on the Saturday and Sunday before the fair at the Historic Crockett Theater. The fair has been sponsored by the Lawrenceburg Rotary Club since 1950.
Visit www.MTDFair.org for a complete schedule, admission, and other information.