Wayne County Fire results in total loss of a home over the weekend.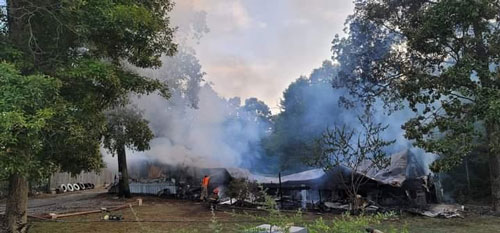 Ovilla Fire Department issued the following release and photo:
"FOR IMMEDIATE RELEASE:
Ovilla Fire was dispatched to a structure fire on Buttermilk Ridge Road this afternoon. Buffalo River and Station 1 responded as mutual aid for apparatus and manpower support.
The structure in question was a single level mobile home that was occupied at the time of ignition. Cause of the fire is unknown at this time, but believed to be of accidental nature.
Due to the structural nature of the home, it was fully involved and partially collapsed upon units arrival.
The fire was contained to the building itself and not allowed to spread. The structure was a total loss.
There were no injuries or fatalities. Our thoughts go out to those affected by the loss."