LORETTO TELECOM CELEBRATES 125TH ANNIVERSARY
Area Communications & Internet Services Provider Plans Events Though Year to Commemorate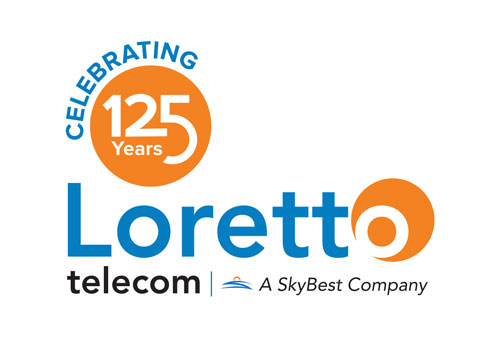 LORETTO, Tenn. – Loretto Telecom, a SkyBest Company, announced the official kickoff of its 125th anniversary today, unveiling a special 125th anniversary logo as part of the anniversary celebration and describing special events Lawrence County residents can look forward to over the coming months.
Loretto Telecom General Manager, Jason Shelton, explained, "As one of the oldest continuously operating telephone and communications companies in our state, we want to celebrate with the folks who have made this possible – our wonderful customers throughout the county, along with all the hardworking employees, past and present."
The company traces its start to 1897, when the local Pruitt family built a telephone line from Iron City, TN (then a popular resort area for midstate families) to Lawrenceburg, TN, the county seat. The line was soon purchased and operated by William H. Wiggerman, a former Loretto, TN postmaster.
Over several decades the company changed ownership many times. Interestingly, this 125th anniversary also marks the 75th anniversary of the company's purchase by Ralph and Louise Passarella, whose family continued at its helm until the Skybest purchase in 2018.
Shelton focused on one primary point of importance throughout the company's history, saying, "Loretto Telecom, over its long history has always had one primary constant: innovation. The county's first phone line, the first digital switch, the first to offer DSL, and now the first to offer a 100% fiber optic technology to businesses and homes in Lawrence County. At every point of its history, Loretto Telecom has been on the cutting edge of technology, offering the citizens of Lawrence County technical advances often years ahead of other parts of the country."
He continues, "This innovative and pioneering spirit is very much alive today, as we build the network that will drive Lawrence County for the next century. We don't intend to stop until every Lawrence Countian is capable of accessing this future-proof network – 100% fiber-optic."
Jesse Turner, City of Loretto Mayor, commented, "Loretto Telecom has been an integral partner to the City of Loretto and surrounding communities with its beginnings dating 50 years before our City's Incorporation. Their rich history of being on the cutting edge of telecommunications technology and partnering with the community has laid a prosperous foundation on which this community will continue to grow for another century."
Lawrence County Executive, T. R. Williams agreed, adding, "Lawrence County is a better place because Loretto Telephone Company and Loretto Telecom have helped connect us to the world for 125 years. From the first telephones installed by Loretto Telephone to the broadband expansions of Loretto Telecom, there has been a seamless and constant drive to serve Lawrence County with the best in service and technology. It's a tradition we can depend on today and in the years to come."
Shelton concluded, "Over the course of the next year we have some exciting events and giveaways planned to share this celebration with all our neighbors and friends around the county. Be on the lookout for fun ways everyone can participate and enjoy this milestone!"
To learn more about Loretto Telecom, a SkyBest Company, visit lorettotel.com or call 931-853-4351.