Atleast one fatality has been confirmed as a result of Saturday's Plan crash on Percy Priest Lake near Nashville, Tennessee.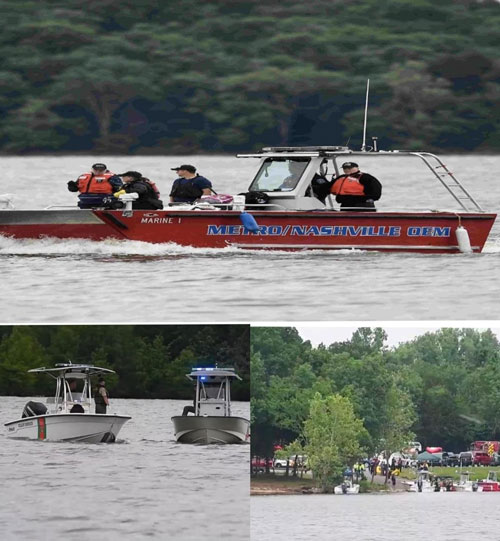 On Saturday the Rutherford County Fire and Rescue released the following statement after responding to a nearby plan crash:
"Rutherford County Fire Rescue, Almaville and Lascassas Volunteer Fire Departments, Rutherford County Sheriff's Office, Rutherford County Emergency Medical Services, Rutherford County Emergency Management Agency, Tennessee Highway Patrol, Tennessee Wildlife Resources Agency, and Smyrna Airport Authority Public Safety are all on scene of an incident involving a small jet that crashed into Percy Priest Lake around 11:00 a.m. Saturday morning.

The Federal Aviation Administration and National Transportation Safety Board have both been notified and have representatives en route.

At this time, Rutherford County Fire Rescue and Metro Nashville Office of Emergency Management Dive Teams and others on scene are actively determining the extent of the crash site, examining the debris field, and conducting search and rescue operations.

Boaters on the lake should be advised to stay out of the areas marked with public safety boats. Assistance is not needed from civilian boaters.

No private aircraft allowed in the incident area and within one nautical mile's radius."
Shortly after the crash occurred the Federal Aviation Administration confirmed that the plan was a Cessna C501 jet that had left from the Smyrna Airport, and had crashed into Percy Priest Lake.
Rutherford County Fire Rescue Captain Joshua Sanders spoke during an afternoon press conference where he stated that responders had found a debris field, oil slick, and components of an aircraft along with identifying parts of the airplane in the lake.
Several news outlets had reported that the Federal Aviation Administration said that the Cessna C501 had seven people aboard the plan as well as reporting that the aircraft was registered to JL&GL Productions LP, a partnership formed by Brentwood-based Christian diet guru Gwen Shamblin Lara and her husband, Joe Lara.
Rutherford County Public Information Officer Ashley McDonald spoke on the information being released by news outlets by stating the following:
"We acknowledge there are several rumors circulating the number of victims and the identification of those victims. None of this information has been officially released from anyone officially associated with the investigation,"
Mcdonald did release in the news conference that one fatality has been confirmed involving the plan crash.
According to McDonald authorities do know who the jet was registered to, but at this time will not be releasing that information.
Captain Joshua Sanders of the Rutherford County Fire and Rescue said that Dive teams are scouring the crash site, retrieving debris and searching for survivors where they are expected to continue throughout Saturday night.
Boaters are asked to stay out of the areas marked with public safety boats.
Photo Credit: Tennessean.