Lawrence County Tennessee Government announces that more blessing boxes have been added to our community.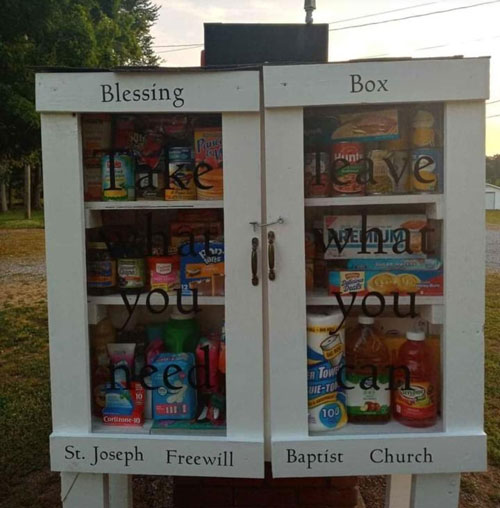 Lawrence County Tennessee Government shared the following update:
"Update! Two new Blessing Boxes have been added to Lawrence County in Ethridge and Saint Joseph. Please see below for the exact locations.
BLESSING BOXES: located in Lawrence County, Tennessee:
*First Baptist Church Lawrenceburg
2100 Springer Road
(located on the north side of the building)
* Coleman Memorial United Methodist Church, (located across the street from its 323 North Military Ave., Lawrenceburg sanctuary)
* The Leoma Café, 2571 Highway 43 S., Leoma
* Word of Life Ministries, 3 Rabbit Trail Road, Leoma
* West Gaines Church of Christ, 420 West Gaines St., Lawrenceburg
* Lawrence County Health Department, 2379 Buffalo Rd., Lawrenceburg
* Loretto Library, 102 South Main St., Loretto
* Ethridge Elementary, 33 Main St., Ethridge
* Ingram Sowell Elementary, 510 7th St., Lawrenceburg
* Summertown Medical Clinic, 4955 Highway 43 N., Summertown
* Summertown Elementary, 319 Corbin St., Summertown
* Summertown Quik Mart, 9170 Hwy. 43 N., Summertown
* Summertown High School, 411 W. College St., Summertown
* Greater Tabernacle Baptist Church, 320 Suzanne Street, Lawrenceburg
*New Prospect Community Center/ Fire Hall 4420 Pulaski Hwy., Lawrenceburg
*Highland Park Baptist Church 709 First Avenue, Lawrenceburg
*Harmony Church of the Nazarene at 904 3rd Avenue, Lawrenceburg
*David Crockett Elementary School 2301 west Gaines Street, Lawrenceburg
*Pleasant Grove United Methodist Church 74 Red Hill-Center Rd, Lawrenceburg
* Sonset Fellowship, 204 Lawrence St., Lawrenceburg
* McMasters Home Gallery, 311 N Military St., Loretto
* Unity Church of God, 261 Piney Rd, Lawrenceburg
* St Joseph Freewill Baptist Church,47 Bluff Rd. Saint Joseph
*Ethridge Methodist Church 49 Main St, Ethridge,
*Saint Joseph Barber Shop, 158 N Main Street, St Joseph."